Geely Automobile Holdings said its parent and Volvo Car had signed a technology transfer deal allowing the Chinese maker of low-cost cars to enrich its product portfolio and make it more competitive in its home market. "It will support us in realising the aspirations to make China our second home market," Stefan Jacoby, president and chief executive of Volvo, said on Friday.
Under the agreement, Zhejiang Geely will leverage its full access to technology authorized by the Swedish carmaker to develop a new premium brand for the Chinese market, said Yang Xueliang, a spokesperson for Geely's parent company.
"That would not compete with Volvo, which is a luxury brand," he added.
The listed Geely unit would also benefit from the technology transfer in the future, Yang said.
A person with knowledge of the situation had told Reuters earlier that Volvo Car and Zhejiang Geely would sign a deal on Friday to share technologies in select areas.
Analysts questioned the importance of the deal.
"If it is not the Volvo brand stuck on there it is not going to work. The consumers are so brand-focused," Jack Yeung, an analyst at BNP Paribas said.
Geely's shares closed up 0.3 percent on Friday, lagging a 0.9 percent gain for the benchmark Hong Kong index.
E-VEHICLE PUSH
In addition to the deal, the companies are exploring the joint development of electric vehicle and small-car technology, including plug-in vehicles, Geely said in a statement.
"It's a strategic imperative for us to try our best and unlock the synergies within the group, enhancing our different brands," said Li Shufu, chairman of Geely Holding Group.
Geely and Volvo have already applied to Chinese regulators to set up a joint venture and hope to receive approval this year.
Under Chinese rules, a Sino-foreign auto venture cannot produce only foreign car brands in China but must also set up research and development centres, and produce own-brand and new energy cars, an industry expert told Reuters in February.
Zhejiang Geely took over Volvo from Ford Motor Co in August 2010, marking China's largest overseas auto acquisition and reflecting the country's rapid rise in the auto world.
The deal raised some eyebrows, however, especially in Volvo's home country of Sweden, amid concern over the potential impact of Chinese ownership on the a long-established upscale Volvo brand.
To ease the concerns, Li has stated publicly that Volvo's independence would be maintained.
"Geely is Geely, Volvo is Volvo," Li has said on several occasions.
Even though technology sharing between a parent and its subsidiary is not unusual, industry observers warned about operational difficulties in executing the plan.
"Geely is the obvious beneficiary of the deal. But they should be extremely careful in executing the sharing as it could tarnish Volvo's image as a premier brand," said Yale Zhang, president of consultancy Automotive Foresight (Shanghai) Co Ltd.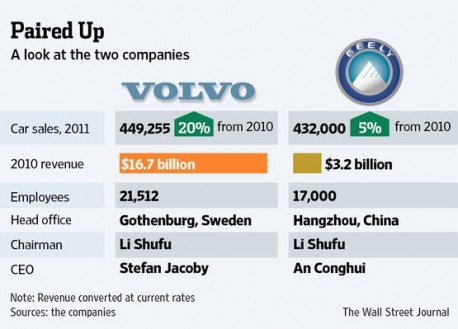 Via: Reuters.