Of all the Chinese automakers, Great Wall 's history is perhaps the easiest to understand, as it most closely resembles what we're used to in our regions. It is not a story about an old arms factory looking for new opportunities, not a strategic government venture and not a local employment project, but the history of the Wei family. Main protagonist is Wei Jianjun, but first let's meet his family.
The Wei family
In the early 1980s, Wei Deyi (father of Jianjun) bids farewell to his military career in Beijing and moves back to Baoding , his hometown, not far away. Baoding is an industrial city and Wei Deyi starts a metal construction company there, which will soon also focus on parts for water pipes and heating. He calls it Taihang Construction Equipment Factory and nowadays Taihang is a big industrial company.
Wei Deliang is the uncle of Jianjun and he never leaves the family hometown Baoding. Together with the local government of Nandayuan Township, he begins a cooperative workshop in 1976, that he calls Great Wall Repair Factory. In addition to repairs on agricultural vehicles, he also regularly carries out vehicle modifications, such as converting commercial vehicles. In 1984 Deliang goes one step further. On the basis of the widely represented Beijing BJ212, he starts to build his own commercial vehicles on a small scale. He changes the name of his company to Great Wall Industry Company. Vehicles include small trucks like the CC130 and even a large SUV (CC513).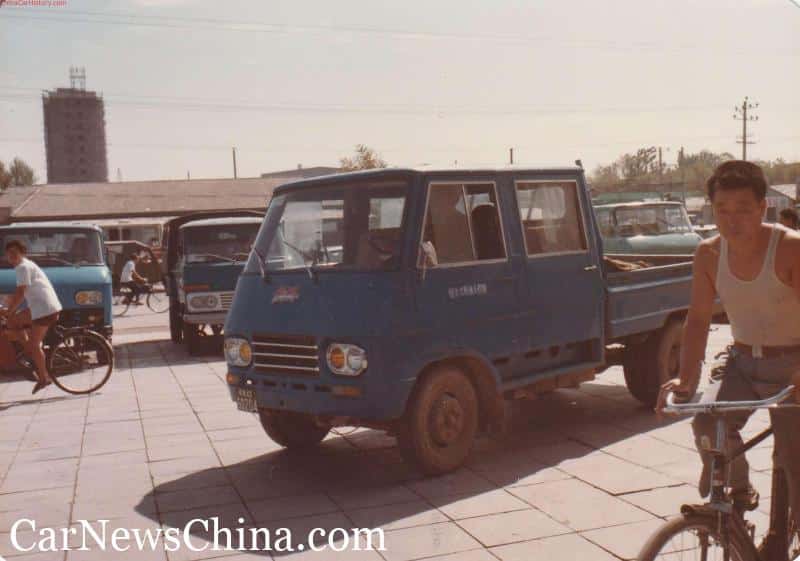 Wei Jianjun is the son of Deyi, born in 1964. After high school Jianjun briefly works in the Tongxian Mini Motor factory in Beijing and later in a carpet factory when his family returns to Baoding. In his spare time Jianjun drives his own Lada. This is a rare feat, since personal car ownership isn't commonplace at all, especially not for such a young man. Jianjun flicks his motor through Baoding and dreams of becoming a professional rally driver.
Not much later, in 1986, Jianjun gives up on the carpet business and joins his father's company. At first he becomes the manager of a factory that produces water pumps, clearly an educational step towards a more prominent position within Taihang Construction in the future. While Jianjun gets to grips with business management, he does not forget about his hobby. In 1989, he convinces his father to start another company together. As a minor part of the family business, this company is known as Taihang Dongwei Automotive Suspension. Father and son jointly design an independent front suspension for the very traditional ladder chassis of the Beijing BJ212. While Jianjun seems destined to make a career in the family business, fate pushes him in an unexpected direction.
In the summer of 1989 uncle Deliang travels from Baoding to Renqiu for a business meeting. It's a trip he has made before and he is familiar with the route, but on this tragic day he somehow loses control of the car he's driving and crashes it. Deliang dies later that day from his injuries.
Jianjun goes his own way
Businesses in China are organized differently than we are used to and being a cooperative venture, Great Wall Industry is not part of a Deliang's legacy. Instead ownership reverts back to the local community, in this case Nandayuan Township, a suburb of Baoding. At the time the car factory employs around 60 people and is hardly a thriving business. There are few technically trained workers and there are some debts. The district council is understandably not very interested in continuing the garage business under its own management and starts looking for a candidate to run it on their behalf.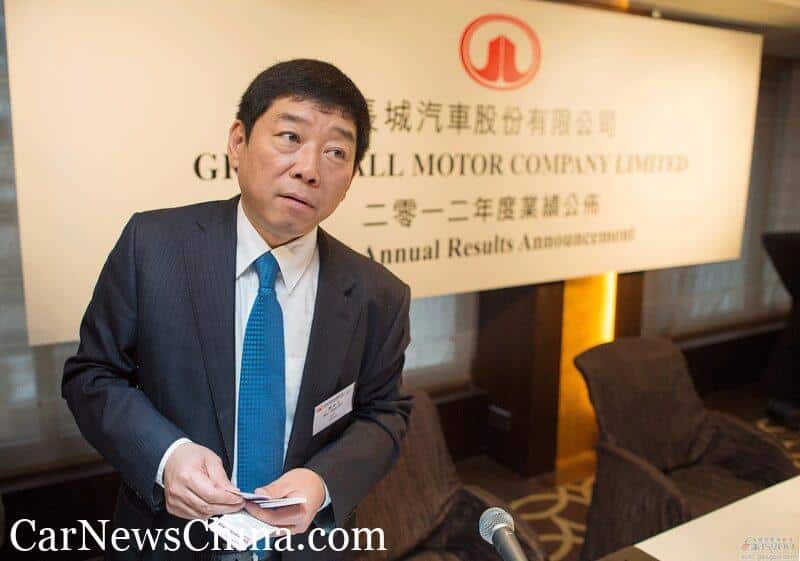 Jianjun sees Great Wall Industry as an opportunity. It's a way to turn his car hobby into a job and a chance to carve his own career, instead of following in his father's footsteps. He applies to the ward council for the job of director of Great Wall, without notifying the rest of his family. In July 1990 Nandayuan Township, happy to find a suitable candidate, appoints him to the position for five years. He resigns from his father's company in what can only have been an interesting conversation. But JIanjun plays his cards well, he gets the blessing of his family.
Once installed at Great Wall Industry Jianjun is confronted with a harsh reality: he is no engineer and neither are his employees. Still he doesn't lack ambition and shifts the focus to passenger cars. Along with the few remaining employees, Jianjun studies the construction of the cars they build and some of the available cars on the market. He teaches himself automotive engineering!
The first batch of copycat cars
In 1993 Great Wall begins production of several passenger car models. That's less than three years after Jianjun becomes director, so how does he accomplish that? The development of a car usually takes several years, but Great Wall takes a proven shortcut: copying. Great Wall produces remarkably close 'interpretations' of the Nissan Cedric (Y30) and the Toyota Crown (S130) as CC1020 and CC1020S respectively. The Toyota copy also inspires some original work by Great Wall; a station wagon (CC6470) and crew-cab pickup version (CC1020S) are produced as well. The Great Wall CC6490 is almost an SUV, but build on the Beijing BJ212-chassis, presumably with the Wei-family designed front suspension.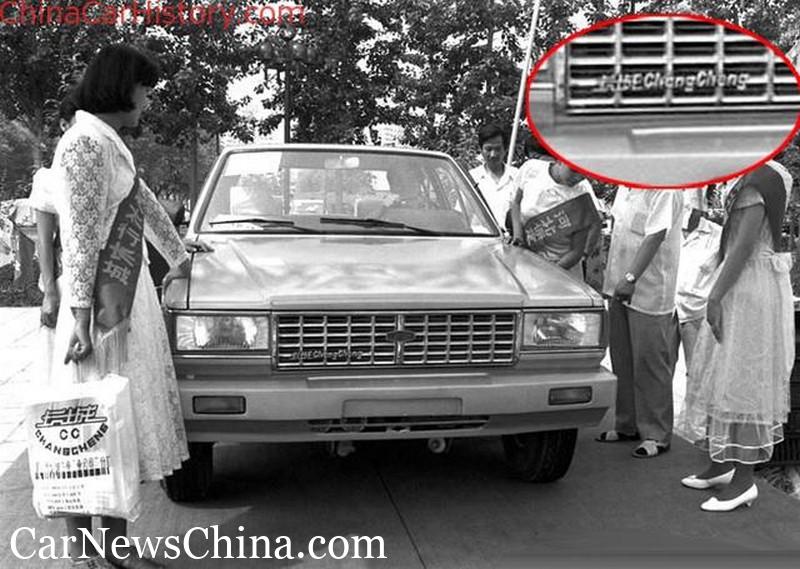 The most remarkable creation is the Crown-based CC1020S with a Rolls-Royce grille and head lights. Yes, it was actually sold. Great Wall also releases a brochure for a model called Hawk (CC6470), a copy of the Toyota Corolla (E80). Contrary to the other cars, the Hawk doesn't seem to have reached the production stage. I borrowed some of the pictures of these cars from Erik van Ingen Schenau's wonderful article about Great Wall's early years. I encourage you to read it as well.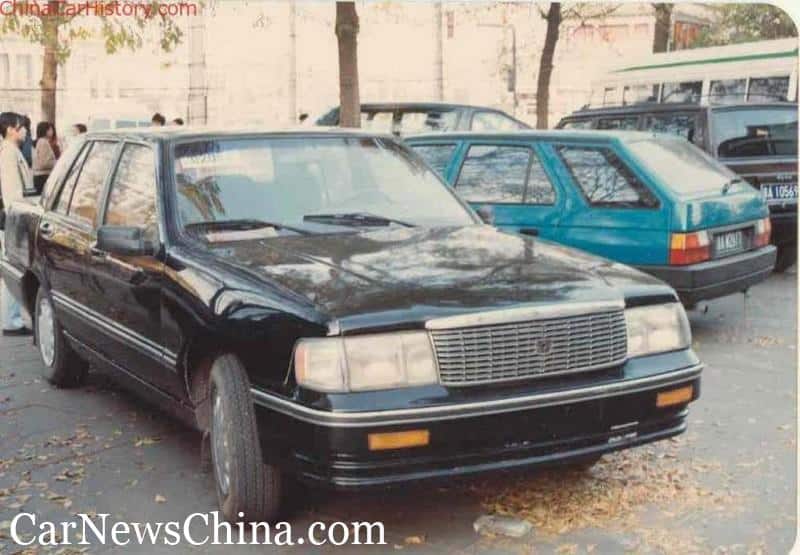 Great Wall offers the cars at attractive prices and the monthly production quickly rises to 100 copies. That may not sound like much, but by Chinese standards at the time it is an outright success. Great Wall is busy doubling production capacity, when they are thwarted by new national legislation. The central government institutes a registration and approval process for passenger car production and Great Wall is denied the permit. At the end of 1994 its passenger car production ends again.
Great Wall carves its niche
The short interlude as car producer proves Wei Jianjun can make Great Wall a profititable company and Nandayuan Township gladly renew his position for another five years until 1995. At the same time, Jianjun prepares a re-entry into the car market. During trips to Thailand and the United States, he notices the popularity of pickup trucks. China also produces pickups at the time, but mainly by state-owned companies and they are usually of poor quality. Imported pickups from Japanese manufacturers are very expensive.
Great Wall develops a pickup based on the Toyota Hilux, which hits the market in 1996 as Great Wall Deer. The price is about half of the Nissans and Isuzus made by the state-owned joint venture companies, while the quality is of an excellent standard. The Deer thus becomes a resounding success and within a few years, Great Wall is the largest producer of pickups in China, a position they maintain to this day.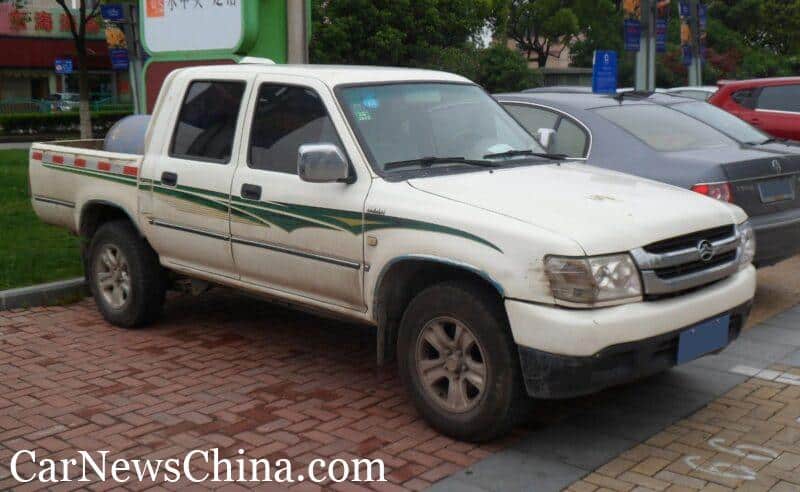 The commercial success gives Nandayuan Township confidence that Great Wall Industry with Wei Jianjun at the helm is in good hands and they decide to reward him for it. In 1998, the local government privatizes the car maker as Great Wall Motor Group Co Ltd , with Jianjun getting 25% of the shares. In the following years, the Wei family (Jianjun's father, mother and wife also get some shares) acquires an increasing interest, until they own a total of 56% in 2001 and Nandayuan Township retains the rest.
Great Wall introduces multiple variants of the pickup, with model names like Sailor and SoCool. It's a small step the put a roof over the cargo area and put in a back seat, so Great Wall ventures into SUVs as well. Based on the same platform and technology as the pickup, SUVs named Safe, Sing and Pegasus storm the market. These SUVs gain similar success as the pickup: due to the favorable pricing and excellent quality, they become very successful.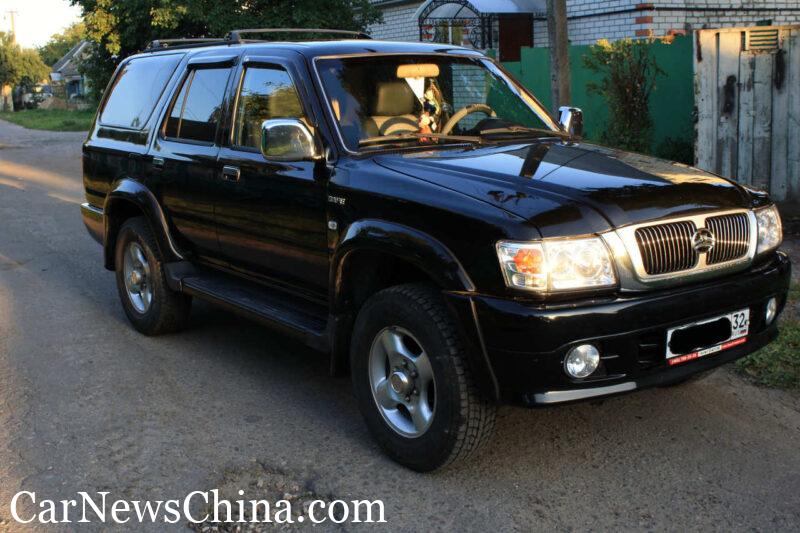 More copycat cars
By then Jianjun has completed a business administration study in his spare time and is now setting his sights on the passenger car market again. Great Wall may be profitable, but his plans require a lot of money. And so Great Wall taps new capital with quite anovice approach: a listing on the Hong Kong Stock Exchange in December 2003. After the listing, the Wei family still holds 40,5% of the shares, Nandayuan Township 31,8% and 27,7% is freely tradable. He spends part of the money on building a large industrial campus in Baoding, including the first attempt at its own R&D department.
The first tangible evidence of the additional capital is the Hover, a SUV Great Wall introduces in 2006. In fact, this is the successor to the first generation of SUVs. It's a much more modern car and even has a bit of personality, although it still resembles an Isuzu. Great Wall already started small scale exports, but the Hover they becomes a small success in some Asian countries, Russia and South America.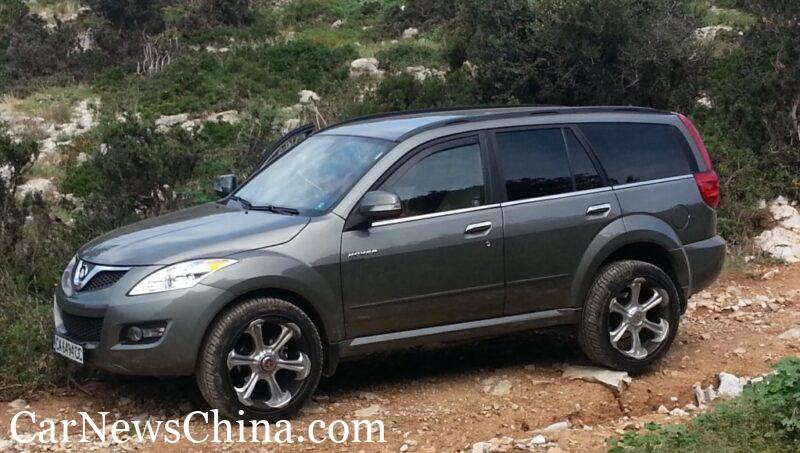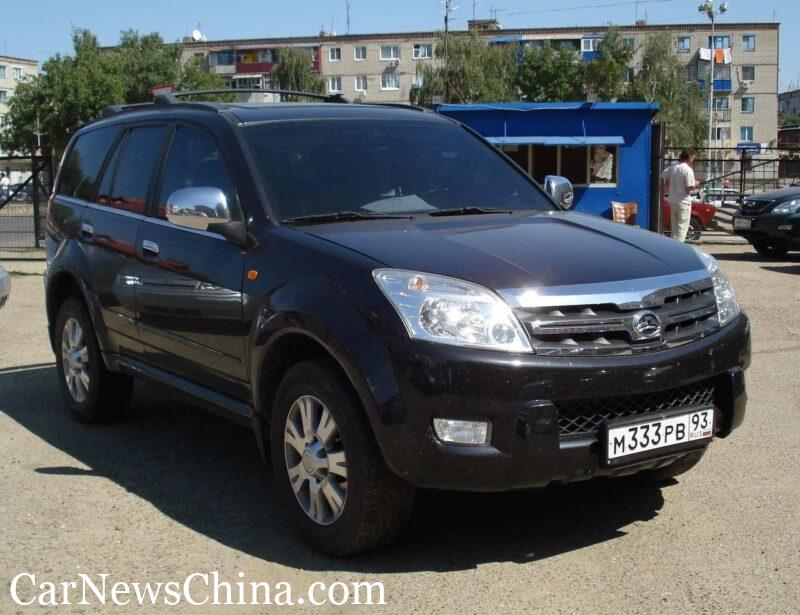 I have to insert a short interlude here. Great Wall gives its models English names from the start. There is a Chinese name as well, but it is often derived from the English one. That's the other way around as almost all other Chinese manufacturers. The Hover is initially called 'Hafu' in Chinese, but some years later Great Wall will convert the product line into a sub-brand. Both the Chinese and English name are changed to Haval, although it's brand name then instead of a model name. From here on I will call all Hover models by the Haval name.
Great Wall uses the new Haval platform for its second generation pickups as well, This pickup goes by the name Wingle. It continues the success of the Deer and becomes available in an increasing number of export markets. Despite the fact that Wingle already sounds pretty English, the export name in many markets is Steed. Both the original Haval and the Wingle are still in production, although both are sold alongside much more modern successors.
At the end of the 2000s Great Wall plunges fully dedicated into the passenger car market again. However, Great Wall's R&D capability is not up to strength yet, so the line of cars again resemble models from international manufacturers. In a short time Great Wall introduces the Peri (Fiat Panda lookalike), the Florid (Scion xA), the Coolbear (Scion xB), Voleex C10 (Toyota Yaris), Voleex C30 (Toyota Vios), the Voleex C50 (Honda Civic) and the Cowry (Toyota Noah, later renamed Voleex V80) on the market. So the line covers the entire compact and sub-compact segment.
Great Wall defends its rather blatant copying practices by saying that the Chinese car industry is lagging its international competitors so much, that a little copying is just necessary. It sounds like a weak excuse, but copying others is one of the ways people learn from each other. The Great Wall Peri by the way, leads to two lawsuits over intellectual property with predictable outcomes. In China Fiat's case is rejected, because the judges rules there are enough visual differences between the two cars. In Italy, Fiat's case is successful. The judge considers the Peri an IP infringement and prohibits the sale on Italian soil.
So far we're talking about copying visual aspects of competitors cars. In the technical field Great Wall employs a similar strategy, but in a smarter way. The company uses mature technology of which patents have expired as the basis for its own design. For example, the small four-cylinder engines come from the Toyota drawing board, but components as injection and exhaust systems are completely upgraded by Great Wall itself or with the contribution of recognized firms such as Bosch. By then Great Wall's R&D institute is gaining experience and in ten years time the company entirely reverses its process. Nowadays Great Wall designs the main elements of its cars in-house. Its engines and battery technology are widely used by competitors.
Read more Automakers Stories
Every week we publish one exiting article about history of famous Chinese Automakers. Check the ones you haven't read yet.