Tesla has previously announced that it will build a new factory in Shanghai to produce its super-large commercial battery, Megapack. The announcement was made during a project signing ceremony held last weekend in Shanghai, attended by government officials and Tesla CEO Elon Musk. The new plant will supplement the capacity of the Megapack plant in California and will start construction in Q3 2022, with production expected to begin in Q2 2024.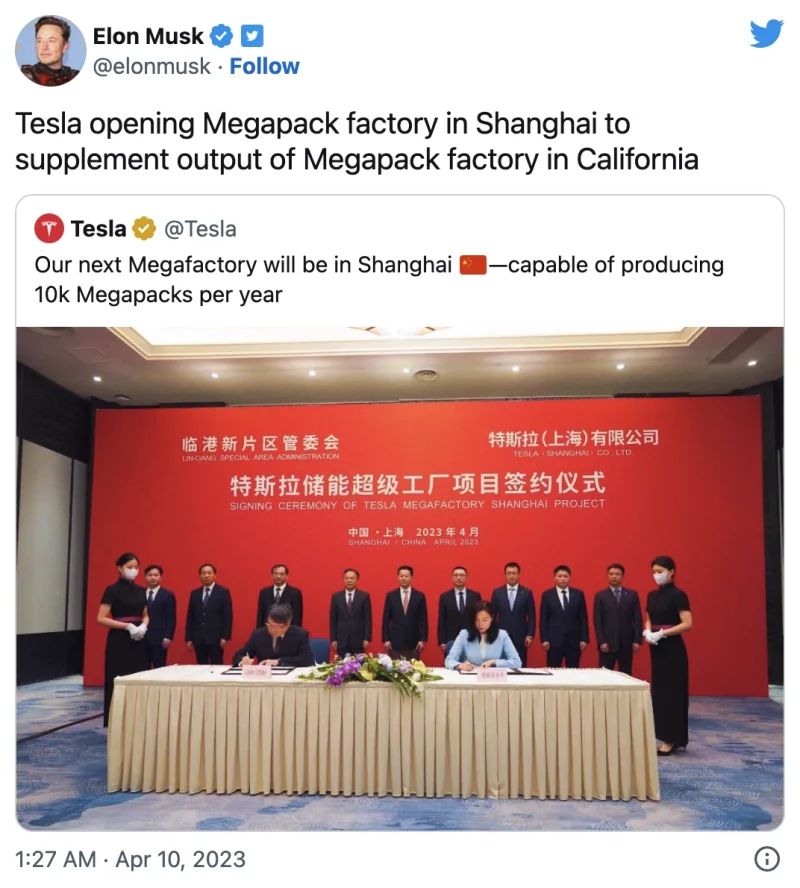 Capacity planning
The Megapack battery is designed to act as a giant battery to help stabilize the energy network. Tesla says that each Megapack unit can store 3MWh of energy to meet the average one-hour electricity demand of 3,600 households. The new factory in Shanghai will initially produce 10,000 Megapack batteries a year, equivalent to about 40 GWh of energy storage, which will be sold globally.
China is an important market for Tesla, and the new factory will be its second global superpower storage plant after the one in California. Tesla has built a wholly-owned car factory in the suburbs of Shanghai, producing nearly 711,000 cars last year, accounting for 52% of its global production. However, Tesla's growth in China has not been smooth, with the company's price reduction in China causing dissatisfaction among car owners. The expansion of Tesla's Shanghai plant has also been postponed.
Recruiting new employees
According to Qian Jiang Evening News, some of the recruitment posts in Tesla have been suspended on mainstream recruitment websites, with only high-level positions such as engineer, director, and manager available. The treatment of the seats is also prominent among the same types. Although there is no post of "general worker" pending on this recruitment website, it is reported that Tesla staff members revealed ordinary front-line workers' revenue.
The base salary of 5K+ RMB (700 USD) per month, bonuses, allowances, overtime pay, and so on, earns 17 salaries in a year and nearly 120,000 RMB (17,400 USD) annually, an average of 10,000 RMB (1,400 USD) per month. According to the data of the Shanghai government, the average salary in Shanghai in 2022 was 96,011 RMB (14,000 USD), and Tesla was 20-25% higher than the average.
The new factory in Shanghai will be another production facility for Tesla, following the Shanghai Electric Vehicle Assembly Plant. The Megapack battery is an integral part of Tesla's Secret Macro Plan, which predicts that about 46,200 GWh of fixed-energy storage batteries will need to be installed in the next 20 years.