Update Sep 28, 11:53 pm (GMT+8): The earlier version of the article titled the chart wrongly as the Top 10 BEV leaderboard instead of the Top 10 automakers leaderboard. Sorry for the confusion.
Total global car sales across 37 major markets in August reached 5.55 million units, according to statistics from TrendForce. Amid this dynamic market, the month's top ten car sales brands were Toyota, Volkswagen, Honda, BYD, Hyundai, Ford, Chevrolet, Suzuki, Kia, and Nissan.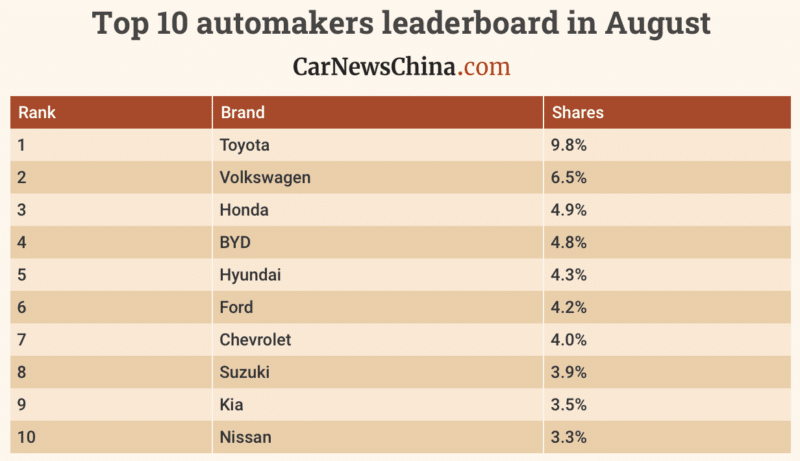 Chinese automaker BYD has surged ahead, surpassing Ford to claim the position of the world's fourth-largest auto brand in August car sales. Notably, BYD's performance has remained robust despite weakened demand in China's auto market. In August, BYD reported a 5% month-on-month increase in car sales. The company's market share trailed third-place Honda by just 0.1 percentage point.
The global market performance for August unveiled a mixed picture. While BYD's car sales were on the rise, Ford experienced a 6.7% month-on-month decline in sales, causing the American automaker to drop to sixth place.
Chinese Market
As a key player in the global automotive landscape, China continued to drive robust performance in its automobile market in August 2023. According to data from the China Passenger Car Association (CPCA), a total of 1.92 million new cars were sold during the month.
Regarding market dominance within China, BYD emerged as the top-performing auto brand for the month, securing an impressive 11.98% market share by selling 230,077 vehicles. Volkswagen maintained its second-place position as the second best-selling brand in China, with total sales reaching 195,548 cars, corresponding to a 10.18% market share. Toyota claimed the third spot, with 155,491 vehicles sold, equivalent to an 8.10% market share.
Honda closely followed in fourth place, recording sales of 102,105 vehicles and capturing a 5.32% market share. Changan rounded off the top five, selling 82,243 cars, which accounted for a 4.28% market share.
At present, BYD's share continues to rise. In the last 12 months, BYD exported more than 150,000 vehicles outside China. BYD analysts believe BYD's export volume will reach 250,000-300,000 cars this year.
Source: TrendForce