The very first picture of the new China-made Volkswagen Tiguan R-Line, seen here in the basement of the exhibition hall for she Shanghai Auto Show where it will debut later this week.  The Volkswagen Tiguan is made in China by the Shanghai-Volkswagen joint venture.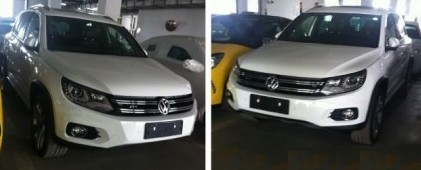 The Tiguan R-Line is made to look a bit more sporty with several black accents all over, a small wing at the back, black roof rails, and sporty wheels. Sadly there is no power hike, engine is the 200hp 2.0 TSI that is also available in the base Tiguan.
Sporty cars are bad for the air and thus for the earth, or so they say. Volkswagen however knows how to make the greenbees happy and will launch the new Tiguan BlueMotion in Shanghai as well.