Chery is working on a new 1.5 turbocharged four-cylinder petrol engine to power the Chery Arrizo 7 sedan. The Arrizo 7 1.5T will debut on the 2014 Beijing Auto Show later this month and launch on the China car market later this year. The Arrizo 1.5T will be available with an optional sport kit, seen on the photos compared to the standard Arrizo.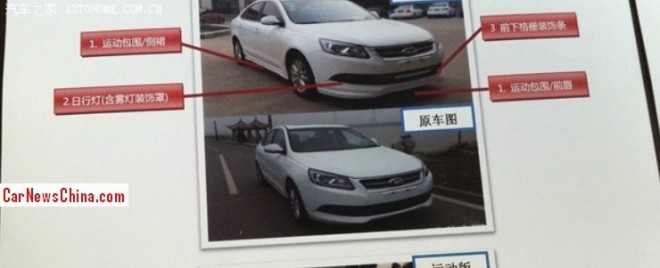 The Chery Arrizo 7 was launched on the Chinese auto market in July 2013. Price starts at 78.900 yuan and ends at 126.900 yuan. Power comes from a 1.6 liter four-cylinder petrol engine with 126hp and 160nm, mated to a 5-speed manual or a CVT.

The sporty 1.5 turbo will get 147hp and 220nm, and will be mated to the same 5-speed manual or a CVT. Not too many extra horses but the extra torque is impressive. Price for the Arrizo 1.5T will start around 110.000 yuan and end around 160.000 yuan.