Baojun has released the first photos of the Baojun 560 SUV for China. The Baojun 560 will debut on the Shanghai Auto Show in April and launch on the Chinese car market in the second half of the year. The 560 features a large shiny grille and a reasonable attractive overall design. Roof rails appear non-functional as they slope down with the roof.
The Baojun 560 will be powered by a 1.8 liter four-cylinder petrol engine with an output of 137hp and 186nm, mated to a six-speed manual or a six-speed automatic, sending power to the front wheels only.  Price will start around 110.000 yuan and end around 140.000 yuan, positioning the G60 in one of the most competitive segments of the Chinese auto market.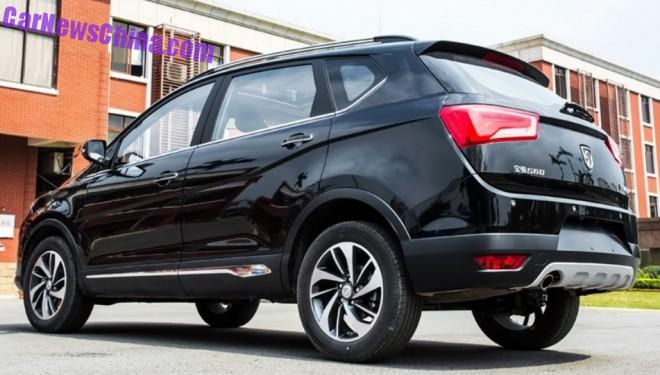 Crease line starting on rear door and ending at rear lights a nice touch. Subtle roof wing for sporty and skid pad for mountaineering.
Baojun is an entry level brand under the SAIC-GM-Wuling joint venture, in which GM has a 43% stake. The other partners are SAIC (aka Shanghai Auto) and Wuling Automotive. SAIC and GM are tied up in the giant Shanghai-GM joint venture that makes Buick, Chevrolet, and Cadillac cars for the Chinese market.