The new Volvo S90 Long-wheelbase has debuted in China, it will be launched on the Chinese auto market on December 15. Public debut is scheduled for 19 November on the Guangzhou Auto Show. First a bit fuss about the name: it is not called the S90L, like the S80L, or the S60L, or the Audi A6L, or Mecedes C-Class L, or Jaguar XF-L, or you name it L. Instead, it is called S90 Long-wheelbase (S90 长轴距). On earlier py shots we clearly saw a S90L badge, but the L has been dropped.
Why Volvo has decided to go for such a different name is yet unsure. We will try to find out.
The S90 Long-wheelbase is made in China and will be exported to Europe and the United States starting late next year.
The wheelbase of the S90 Long-wheelbase has been extend with 12 centimeter. Size is now 5083/1879/1450, and wheelbase is 3061.
Initially there will be two versions: the T4 with a 211hp 2.0 turbo and the T5 with a 282hp 2.0 turbo, both mated to an eight-speed automatic. Next year the 400hp T8 plugin-hybrid will be added to the lineup.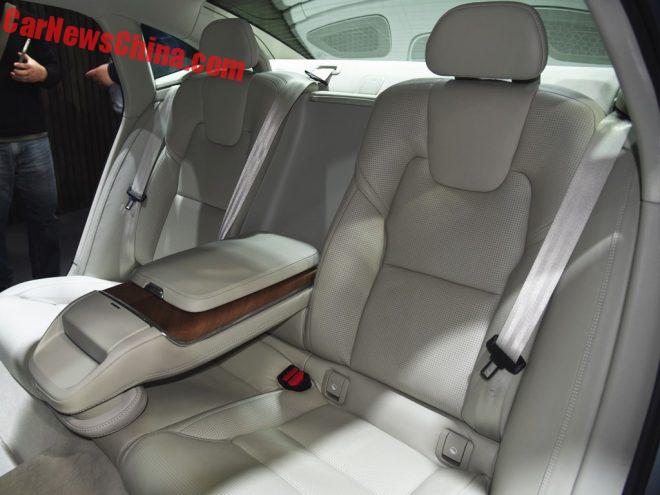 There are two interior variants. This is the standard variant with a bench and a fold-out armrest.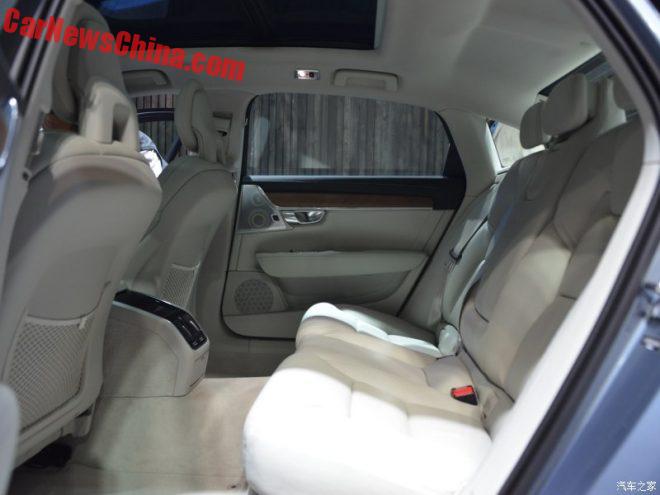 Nice, but for plebs. A real executive goes for: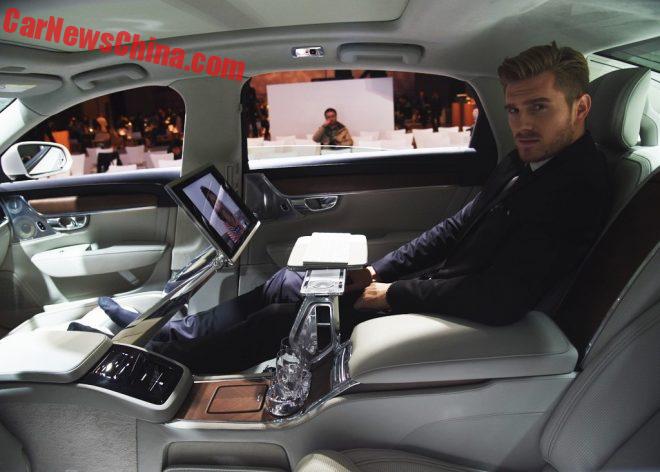 The Excellence. Shown here with a male model who forgot to shave. It is no longer a concept but the real thing, buyers can order it in their S90 Long-wheelbase. The front-passenger seat has been deleted and replaced with a 'lounge console', including a large feet rest, a shoe box (!), a tray table, and a flat screen fitted on a rather kinky shiny frame. The arm rest is fixed and comes two crystal glasses. There are two individual seats and a fridge between them.
It is absolutely brilliant. But is does mean that you really loose another seat. That might not always be practical. In China cars are, among other parameters, designated by their number of seats. So an SUV can be 5-seat or 7-seat, an MPV 7-seat or 9-seat. This S90 Excellence is perfectly correct designated as a 3-seat sedan.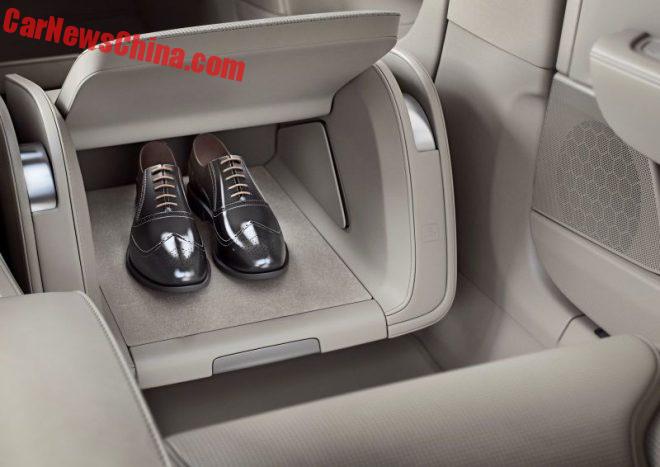 The shoe box, with the hatch open and the shoes facing forward, so the executive can admire them.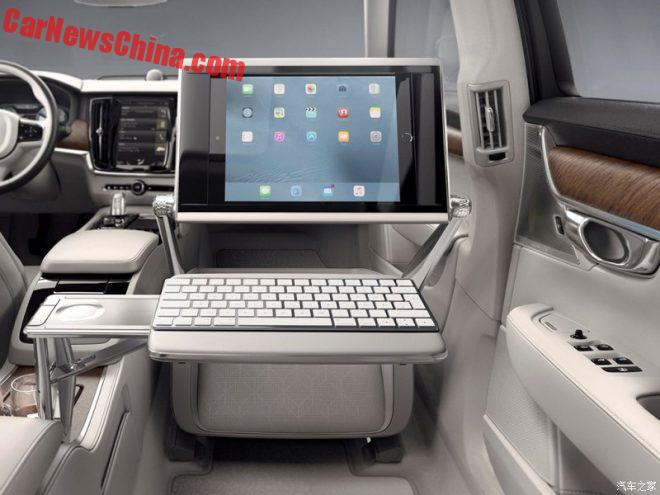 And when he is done looking at his shoes our CEO can get back to work, using the on board keyboard to type some business plans.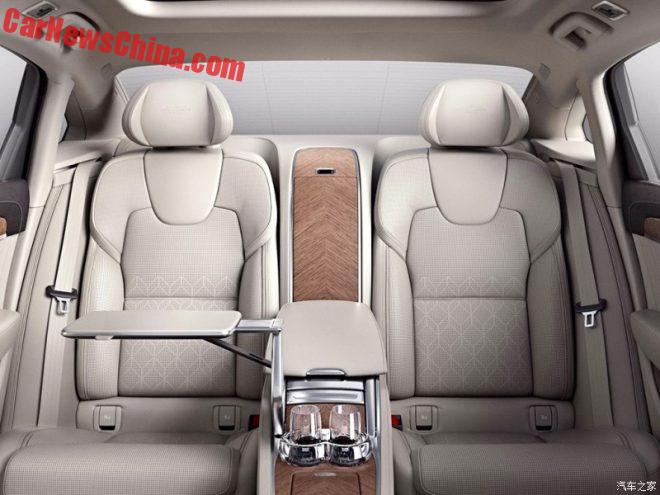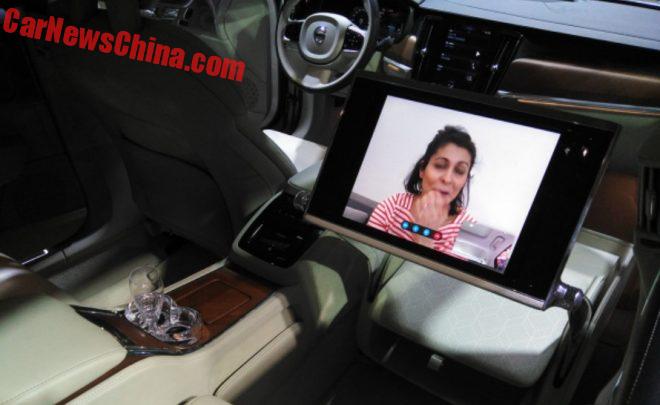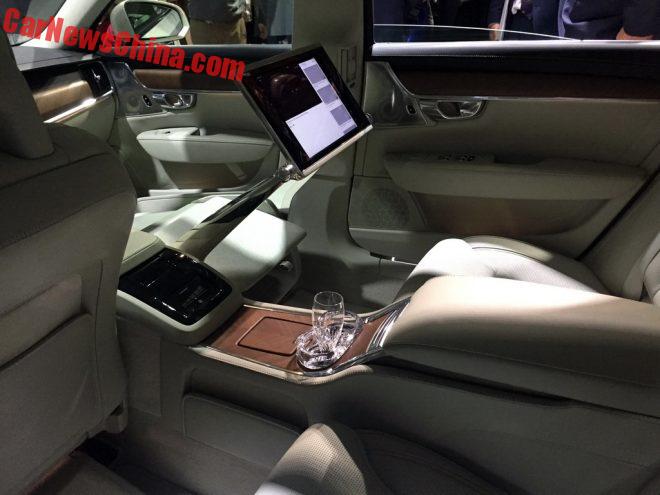 Loads of leg room and Nappa leather seats. Full size panoramic roof will see the sun reflect in the screen.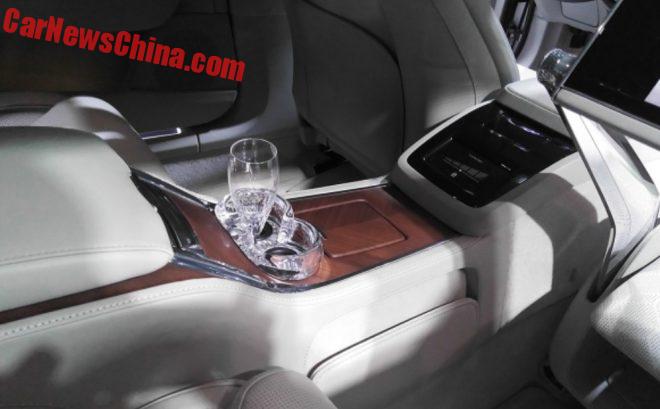 The glasses can be heated or cooled.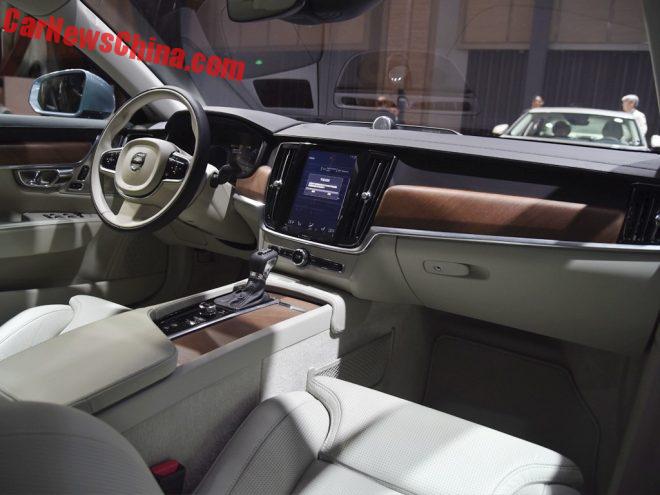 The dashboard, seen here in the standard  car, got extra nice wood but is otherwise unchanged.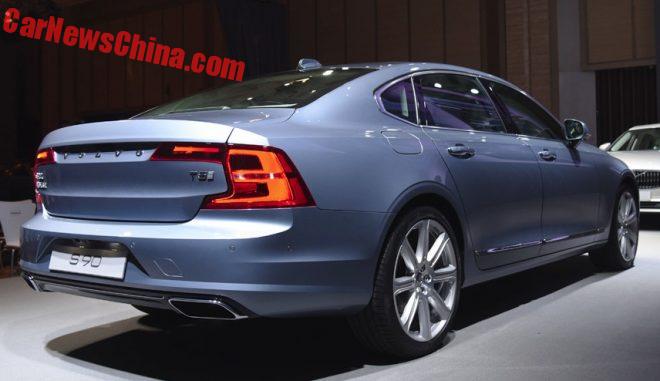 This is the T5.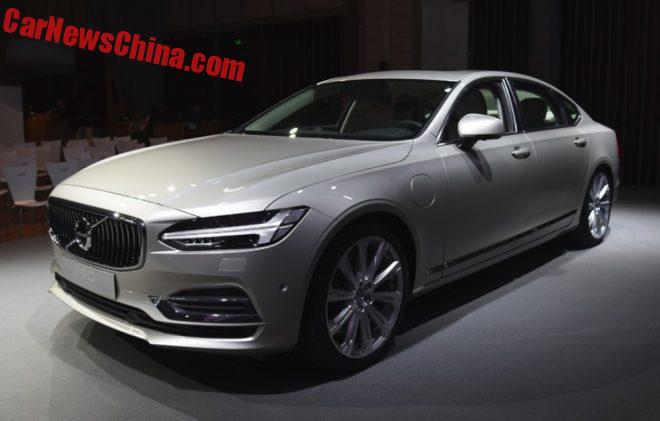 Next year's T8 with the cap for the cable.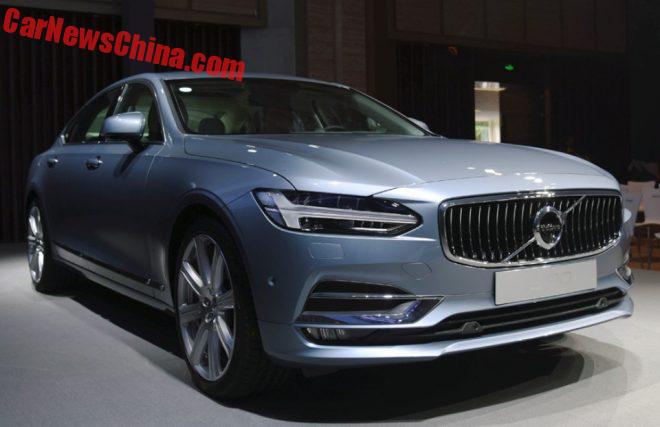 The Volvo S90L; an extremely beautiful car with a very interesting interior. The engines got the power, but wouldn't a V6 have been nicer in such a distinguished 3-seat Swedish limousine..?