Chinese automotive upstart Zhiche Auto has unveiled its English name and a new logo. The name is Singulato and the logo represents an overlapping S and X. The S stands for Singulato and the X for endless possibilities. The company also announced they have received $600 million of funding.
The English-name ceremony was held out in the open in Beijing and it was cold, even the models had their coats on.
Zhiche Auto was founded in 2014 and is based in Beijing, it focuses on the development of new energy vehicles (NEVs), smart-car connected systems, and cloud computing systems. It is headed by CEO Shen Haiyin, formerly president of Chinese e-commerce website 360.com, and before that vice president of software company Kingsoft.
Zhiche Auto it is all about 'interconnected car' and 'connected cars', which in short means vehicles can connect with each other and with the wider world, which includes home and office. The cars will also have various autonomous drive systems.
Zhiche Auto cooperates with the Japanese engineering company GLM, which was closely involved in the development of the speedy Tommy Kaira ZZ electric race car. GLM will develop the platform and drive train for the Zhiche. In return, Zhiche Auto will supply GLM with its connectivity software.
The two concept cars on the photos were designed by Chinese designer Du Baonan, who previously was chief designer at PSA China, where he penned the Citroen C4L, among others. The concept cars were built by IAT Automobile Technology (web) is a Beijing-based design and engineering company.
Their first car will be a MPV SUV crossover similar in style to the concept car seen above. But design of the production version has not been finalized yet. The company has vague plans for a crowdfunded design, like Local Motors does. They also said that the production car would lose the gull wing doors. It will fully electric with a range of about 400 kilometers.
Production is set to start in late 2017. The company said they have reached an agreement with an existing Chinese car maker for a car making joint venture. Together they will invest $1.2 billion in a plant with a planned annual production capacity of 200.000 cars.
The name of the car maker has not been disclosed. But the new factory will be based in Anhui Province, which is home to Chery Auto, so we bet it is them.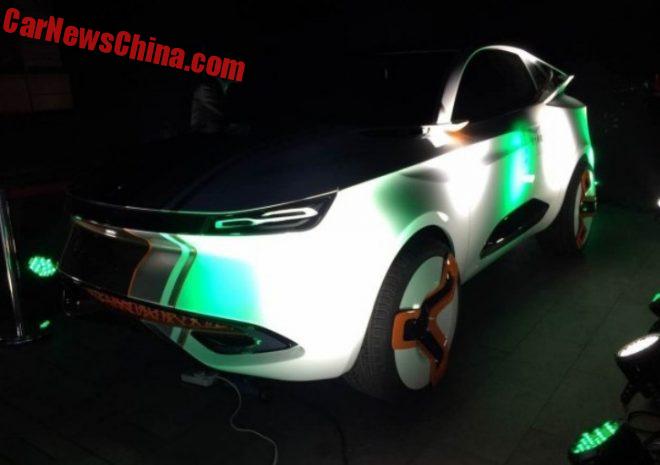 This is the other concept car, previewing a sporty crossover coupe. Better photo here.