Another day, another set of spyshots that appear to reveal a new XPENG SUV prototype undergoing testing.
Now these spyshots have caused some debate in the CarNewsChina offices about what we think it could be. Is it a new SUV, possibly a G5 or G7, or is it a coupe version of the G3i?
Let's investigate.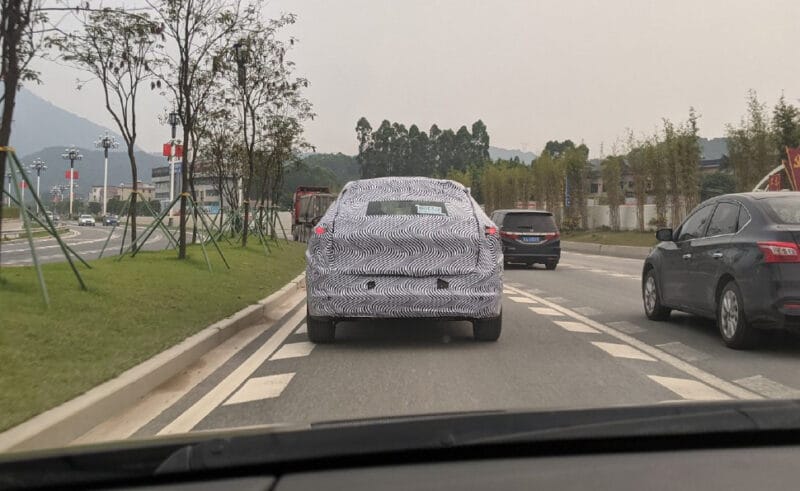 Aggressive Product Offensive
Fortunately for us, several XPENG prototypes have been caught testing in recent weeks, so we've got something to compare to. We can also analyse the details in the images and standard industry practice.
But first a bit of background information. It's understood that the car spotted here may sit on a new platform, the so-called F-platform, and has the codename F30.
Currently, XPENG use two platforms, David and Edward. The David sits under the G3i and the P5, while the Edward sits under the P7 and upcoming G9.
Developing new platforms is incredibly expensive, but we do know from Chairman He Xiaopeng that two new platforms are being developed. One will be for B-segment cars and one for C-segment. We understand the F-platform is for B-segment cars.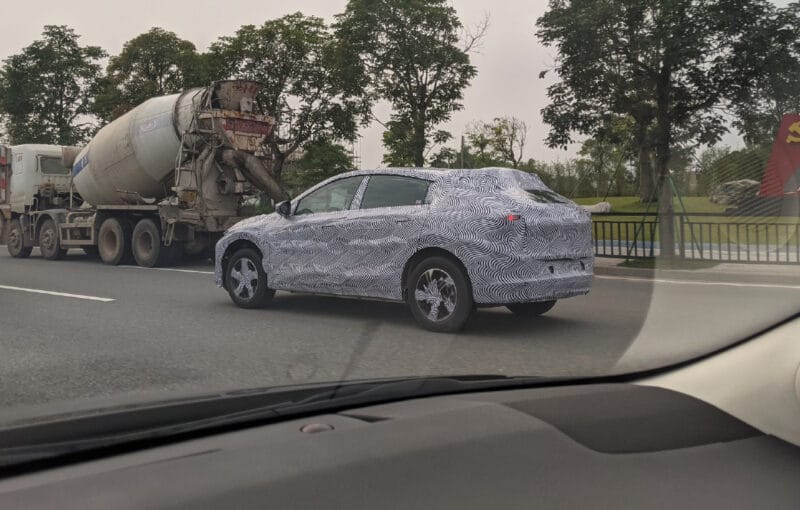 A G3i Coupe?
Let's explore the G3i coupe angle. On first glance the prototype looks very similar in dimensions to the G3i but with a clear coupe-like rake from the B-pillar backwards.
However, there are issues with this theory. First is that it's highly unlikely a car maker would put a new variant of an existing car on a new platform. Coupe versions of SUVs tend to be almost identical up to the A-pillar then different afterwards, but the same hardpoints remain, meaning door closes match those of the standard version.
Looking closely at the prototype, the rear door shutline ends about 25% across the rear wheel and cuts to the wheelarch. On a G3i, this line is almost halfway across the rear wheel and cuts to the plastic trim around the wheelarch, so this car should have a longer wheelbase.
Second is that the G3i is similar in size to a Mercedes-Benz GLA. Nobody has yet made a coupe version of an SUV of this size, mostly because it's too small to do so.
At this price point, and with G3i sales not being the highest in the XPENG range, it's likely margins and popularity are not high enough to warrant making a new variant anyway.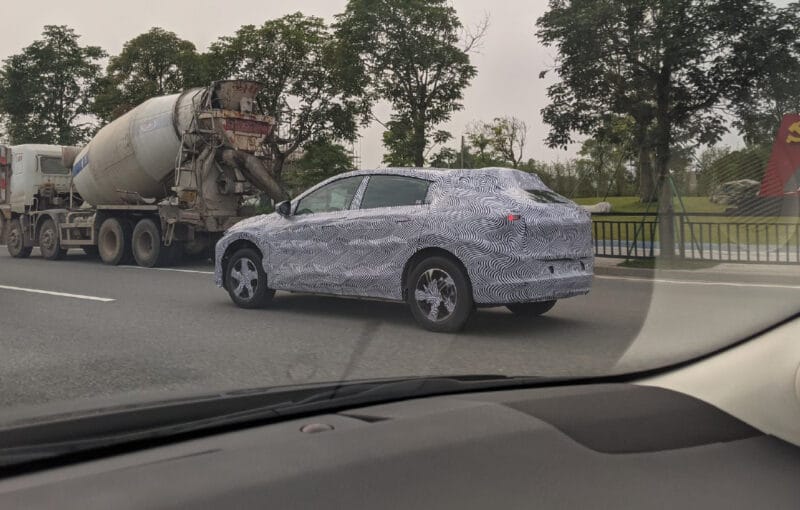 What could it be?
The prototype in question does bear a strong resemblance to another test car spotted recently which features the same sloping rear and high tail, though in this image it appears more like a hatchback than an SUV. It also rides on larger wheels and lower profile tyres.
But this car is not likely to be a hatchback, not least because in the rear view it is clearly taller than the Nissan Sylphy to its right.
Could it then be an SUV in the mould of a Tesla Model Y? As you can see below, the roofline on a Model Y in side profile is remarkably similar to that of a Mercedes-Benz GLC Coupe. The blue line represents a standard GLC, the green the Model Y, and the red a GLC Coupe.
Given how new Chinese electric car brands have echoed the cabin-rear stance of the Model S and Model 3 (see XPENG P7 and NIO ET5/7), it wouldn't be a stretch to suggest they may mimic the coupe-like profile of a Model Y.
For that reason, I'm plumping for this theory.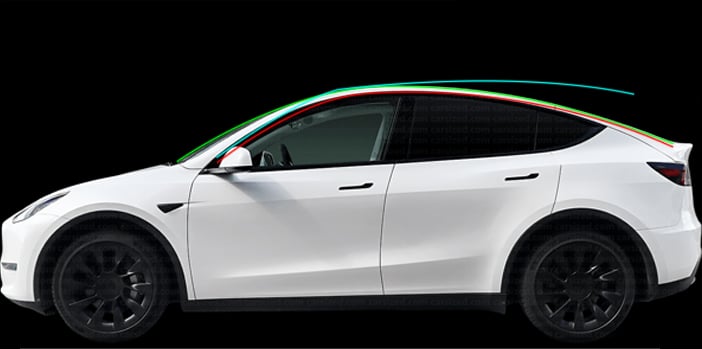 Some Spied Earlier
If the F-platform is coming, it means the David platform likely won't see further use beyond the current P5 model, with the F-platform hosting future models in the B-segment.
The second platform would be for C-segment vehicles and would underpin an upcoming MPV under the codename H93. Future XPENG models are likely to come with super-large integrated die-cast bodies which reduce the number of parts and reduce weight.
Images of what looks like a P7 coupe have also been seen, though this could be just a new platform mule borrowing a P7 body and making it shorter, hence the coupe appearance.
Either way, we can certainly prepare for plenty of news coming out of XPENG in the months ahead and we all have our fingers crossed that the coupe below might even be real!
Images: Weibo