The Suzuki Alto has been made in China by many a factory with many a name. Some factories did have a deal with Suzuki but most factories actually did not. Most famous of all is the Chang'an-Suzuki joint venture which made the Alto until only one year ago when it was replaced with the new Alto. The old one though refuses to die.
Jiangnan Auto, under ownership of Zotye Auto, brings it back for only 18.000 yuan (2600 usd) which makes it the cheapest passenger car on sale in China today. The Alto, 'Aotuo' in Chinese, has an 0.8 litre engine which won't make it quick but not too slow either because the Alto is a very light car.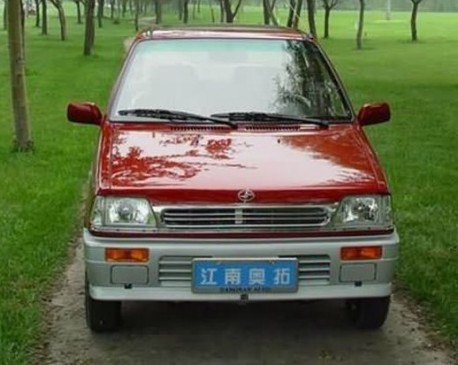 On the plate: 江南奥拓, Jiangnan Aotuo. I doubt whether it will be allowed in the big cities, if anyone there would like to buy it, but in China's vast countryside there is surely a huge market for a car like this.