China's largest vehicle manufacturer, Shanghai Automotive Industry Company (SAIC), will arrive in Australia later this year when it launches a range of new people movers and cargo vans.
SAIC's Maxus V80 vans will go on sale in the final quarter of 2012, with the initial line-up set to comprise four passenger models and three cargo variants.
The four people movers include two 11-seaters – a short wheelbase version (4950mm total vehicle length) and a luxury-spec long-wheelbase (5700mm) – and two 15-seaters – standard roof (2345mm tall) and high roof (2552mm) versions, both on the long-wheelbase.
The vans include standard- and long-wheelbase models with the standard roof height, and a long-wheelbase/high roof model with a payload of 1.8 tonnes.
SAIC vehicles will be distributed in Australia by the Sydney-based WMC Group, following the first local appearance of the Maxus range last week at the Melbourne Truck, Trailer and Equipment show.
WMC Group managing director Jason Pecotic said the Maxus V80 would be a "real challenger in the upper end" of the market, with its sights set on the segments' Korean, Japanese and European competitors.
"The Maxus range will go head to head with some established brands, but will offer more creature comforts as standard and a strong European feel," Pecotic said.
"Maxus will offer us enormous opportunities in Australia, broadening the appeal of our range particularly in speaking to fleets, whether on the cargo and work van side or as a passenger-carrying mini bus."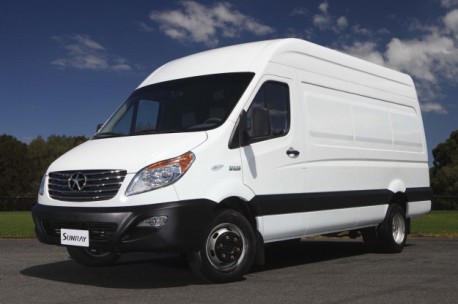 The Maxus V80 range was joined at the Melbourne show by another Chinese brand, JAC, who plans to launch two passenger and commercial vans down under in the first quarter of 2013.
The flagship model is the JAC Sunray, a Chinese-built van with exterior styling from Italy and interior design from Japan.
An in-house 88kW/360Nm 2.7-litre four-cylinder diesel engine is standard, and comes with the option of five-speed manual or automatic transmission. A 110kW/360Nm Cummins 2.8-litre diesel will also be available.
The Sunray's 3570mm wheelbase accommodates a 14m3 capacity, and it will also be offered as a minibus with up to 15 seats in standard and luxury trim levels.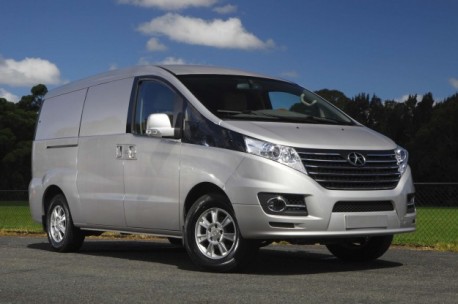 Its smaller sibling, the JAC Refine, has a 9m3 capacity and up to 11 seats in minibus form. The standard drivetrain comprises a 120kW/235Nm 2.0-litre turbocharged petrol engine and a six-speed manual transmission, and JAC says an automatic gearbox and a diesel engine are under development and should be part of the local launch range.
Via: CarAdvice.com.au.