Another Seat that nobody wants..? Volkswagen is readying the Seat Alhambra for the Chinese car market, it will be launched later this year, likely at the Guangzhou Auto Show in November. Just like all other Seats the Alhambra will be imported, which makes it far too expensive compared to locally-made competition. One wonders, why Volkswagen bothers.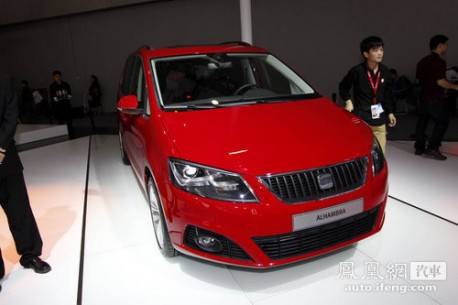 One wonders, why Volkswagen bothered with the Seat brand at all. The Germans already successfully make the Audi, Skoda and Volkswagen brands in China. Why introduce a weak brand that nobody knows in China for far too much money? The Leon was launched on the market on April 1, yez really and the price was no joke: 243.900 yuan! I haven't seen a single Leon on the road yet.
What is going on? We did some asking around and heard Volkswagen wants to set up Seat as a sporty brand in China, like Alfa Romeo. Sporty = expensive = more profit for VW. Could all be, but still nobody knows Seat and if sporty, why now a boring MPV? We think this Seat-adventure is fast becoming pretty hopeless…
Pic Alhambra via iFeng.