FAW is working on a plug-in hybrid version of the Hongqi H7, which will be launched on the Chinese auto market sometime next year. The Hongqi (Red Flag) H7 debuted in April on the Beijing auto Show. Production started in July but the H7 still hasn't been launched on the market.
Petrol engines are a 2.0 turbo, a 2.5 V6 and a 3.0 V6. The latter two are from Toyota, the Hongqi H7 is based on the Toyota Crown that is made in China by the FAW-Toyota joint venture. The Hongqi H7 PHEV is a hybrid developed by FAW, says FAW, and based on the 2.0 turbo.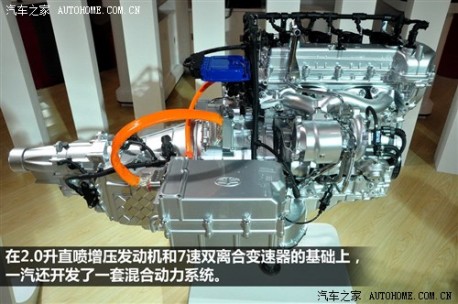 The 2.0 turbo has an output of 204hp and 280nm. Already very neat, but the electric motor makes things much better with another 54hp and, yet again, 280nm. This brings the total output of the system to 258hp and 560nm. Combined fuel consumption is 3.6 liter per 100km. Max range in pure electric mode is 30 kilometer. Curb weight: 1.99 ton. 0-100 takes 8.6 seconds.
Well, it all sounds very impressive and green and such, but Hongqi better hurry up a bit with bringing the petrol powered H7 to the market…
Via: Autohome.