Production of the new Hongqi H7 sedan has officially started at the factory in northeastern Changchun, Jilin Province. The Hongqi H7 will hit the China auto market in October, price is expected to start around 250.000 yuan.
Xu Jianyi, chairman of First Auto Works (FAW), the owner of the Hongqi brand, said at a press conference that FAW will invest 1.6 billion USD in Hongqi over the next five years, most of the money will go to new models including an SUV and a MPV.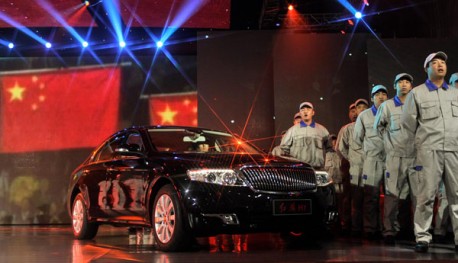 The Hongqi H7 debuted at the Beijing Auto Show in April, it is based on the Toyota Crown that is made in China by the FAW-Toyota joint venture. The H7 will have to compete with cars like the Audi A6L, Mercedes-Benz E-class, BMW 5-series, Volvo S80 and that Toyota Crown.
1.6 billion USD over five years doesn't seem that much. But Hongqi's development costs are very low. The H7 is based on the Crown, and the SUV will very likely be based on the FAW-Toyota Land Cruiser. Sure FAW finds some other Toyota for the MPV. Cheap indeed, but in the long term not good for the stature of the Hongqi-brand.
Via: Autohome.