The Ford Explorer SUV will be made in China by the Jiangling-Ford joint venture that also makes various Ford Transit commercial vans for the Chinese market. The project is code named 'J08', production is expected to start in 2014. The Ford Explorer is currently 'unofficially imported' via the gray market. To stop that Jiangling-Ford will start importing the Explorer themselves until production begins, the first officially imported cars are expected for early next year.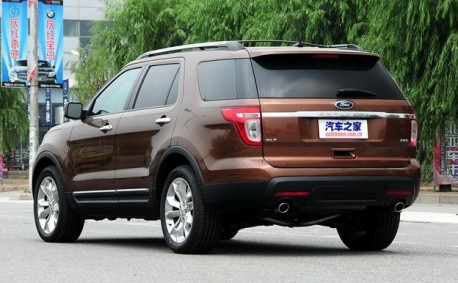 Well, it was time Ford started earning more money in China. Still some to go… Problem with the Explorer however is that it will be sold via the Jiangling-Ford dealer network, which is suited to sell vans to construction companies, and ill-suited to sell luxurious SUV's to wealthy Chinese car buyers.
Ford probably would have liked to make the Explorer at the Chang'an-Ford joint venture, but I think they couldn't. The Chang'an JV is for passenger cars, the Jiangling JV for commercial vehicles. A heavy SUV like the Ford Explorer is classified in China as a 'commercial vehicle'.  China does not allow passenger JV's to make commercial vehicles, and the other way around. Ford so, has to sing with Jianling for the Explorer.