New spy shots showing that the new Zotye T600 SUV is ready for the China car market, launch is scheduled for the second quarter of 2014. The Zotye T600 debuted as a concept on the 2011 Shanghai Auto Show. The Zotye T600 is the biggest Zotye so far. It will compete with fine cars such as the BYD S6 and Brilliance V5.
Power comes from a 1.5 turbo with 160hp (earlier on we heard 147hp), mated to a 6-speed manual or a 6-speed automatic. FWD is standard, AWD optional. The 1.5 turbo is developed by Zotye but based on the Mitsubishi-sourced 120hp 1.5 that powers the Zotye Z300. Chinese media say the Zotye T600 looks too much like the Audi Q5. They have a point. Compare size:
T600: 4631/1893/1664, wheelbase is 2807. (earlier on we heard: 4635/1903/1660, wheelbase 2807).
Q5     : 4529/1898/1655, wheelbase is 2807.
The similarity proves that Zotye used an Audi Q5 as a model to design the T600. The hard points of the chassis are likely all the same as well. Chinese clone-engineering at its best! Anyway, price will be rather different. Price for the T600 will range from 90.000 to 120.000 yuan, whereas the Audi Q5 starts at 358.500 and ends at 567.700 yuan.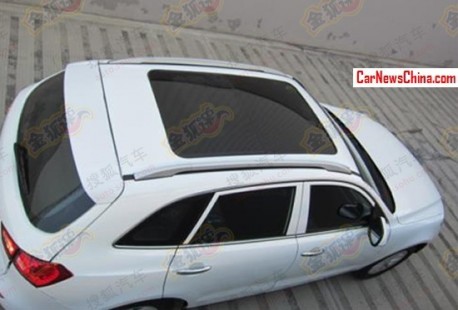 Sun roof a nice addition to Audi theme.