Volkswagen's EV sales in China decreased by 38% in Q1 2023 compared to last year. According to data released by the China Passenger Car Association (CPCA), the Volkswagen brand sold 16,611 EVs in China during the first quarter of 2023. This is a significant decrease from the 27,101 units sold in Q1 2022 and a 56% decrease from the 38,437 units sold in Q4 2022.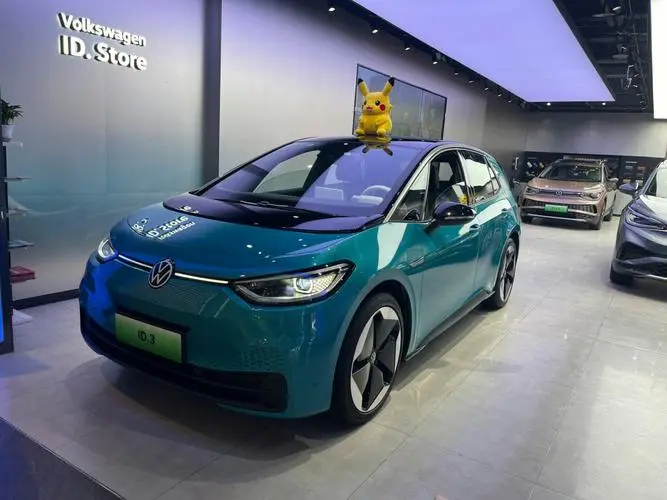 In China, ID.4 and ID.6 electric SUVs are manufactured by both SAIC and FAW companies. FAW makes ID.4 CROZZ and ID.6 CROZZ versions while SAIC produces ID.4 X and ID.6 X. They differ not only by manufacturer, but they also have some differences in styling and color schemes. The ID.3 model is manufactured only by SAIC, while FAW will produce the upcoming ID.7 there.
In terms of sales by model, ID.3 sold 5,767 units, ID.4 CROZZ sold 4,432 units, ID.4 X sold 3,518 units, ID.6 CROZZ sold 2,079 units, and ID.6 X sold 815 units in Q1 2023. In terms of sales by manufacturer, FAW-Volkswagen sold there 6,511 units while SAIC-Volkswagen sold 10,100 units.
One of the reasons cited for the decline in Volkswagen's EV sales in China is the recent abolishment of EV subsidies starting from January 2023. This policy change, combined with a large-scale price war among major manufacturers and the launch of numerous new EV products, has significantly impacted Volkswagen's EV sales.
It should be noted that Volkswagen is not the only automaker facing challenges in the Chinese EV market. As we previously reported, overall new car sales in China have declined by 13% in Q1 2023 compared to last year. In Q1 2023, Volkswagen sold 442,203 in China, while in Q1 2022, it sold 511,778, a year-on-year decrease of 13%, the Same as the overall market decline.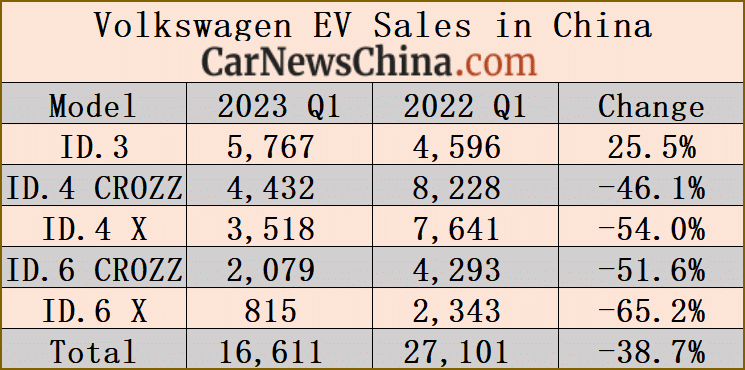 Volkswagen slashed prices of the ID. series in China in March. FAW-Volkswagen announced a price cut of 40,000 RMB (5,800 USD) on its ID. lineup. And SAIC-Volkswagen followed with a 30,000 RMB (4,350 USD) price cut.
Editor's Comment
Faced with the continuous impact of giants such as BYD and Tesla, Volkswagen has not made a substantive and effective response in the Chinese market. In Q1 2023, Volkswagen's sales in China were surpassed by BYD for the first time, marking the first time in the 21st century that a Chinese brand has topped the quarterly sales championship in the Chinese market.