The Dongfeng Aeolus eπ01 cabrio debuted in China, looking quite similar to the Polestar 5 (Precept) from Volvo & Geely. According to Dongfeng, this is a prototype car that adopts a totally new design language. Let's get to this vehicle.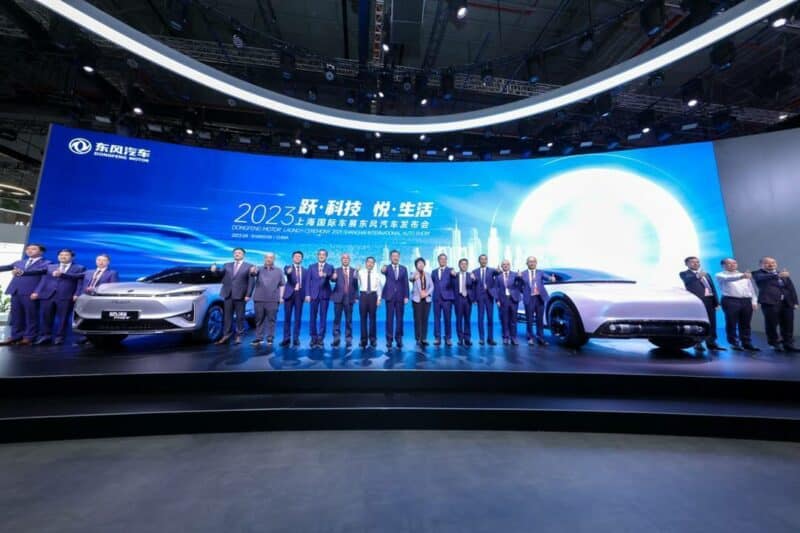 First, let's speak about "eπ". It was launched at the Shanghai Auto Show as a new series under the Dongfeng Aeolus brand. Its name refers to an electron, the simplest unit of electricity. As you have probably guessed, it is a series of all-electric vehicles. With it, Dongfeng tries to catch up on the electricity trend in China. Currently, Dongfeng has a high-end electric NEV brand Voyah, and it also works on solid state batteries. The eπ series will help it to get more customers. Now, let's get to the eπ01.
Dongfeng Aeolus eπ01 prototype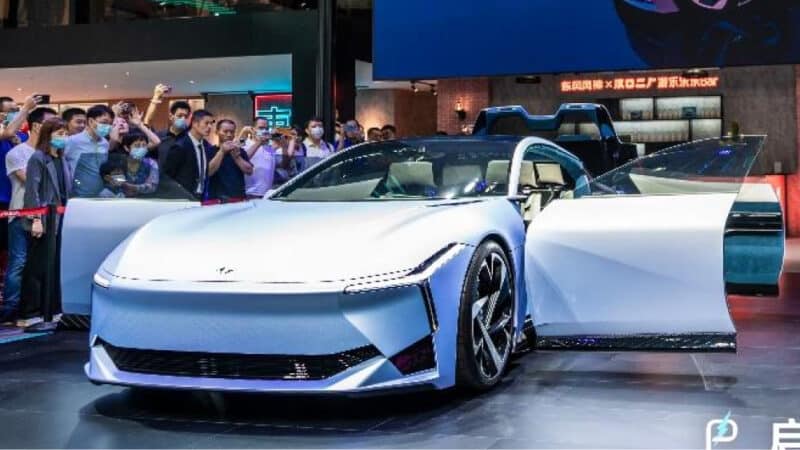 As we can see, the Aeolus eπ01 is a coupe-shaped sedan with an open roof. Its doors are one of the main quirks. They are obviously frameless, and they haven't got door handles. What is more, the back doors open backwards. So the eπ01 is a cabriolet with coach doors (or suicide doors). It isn't clear how driver or passengers can open them. Inside, it has four independent seats.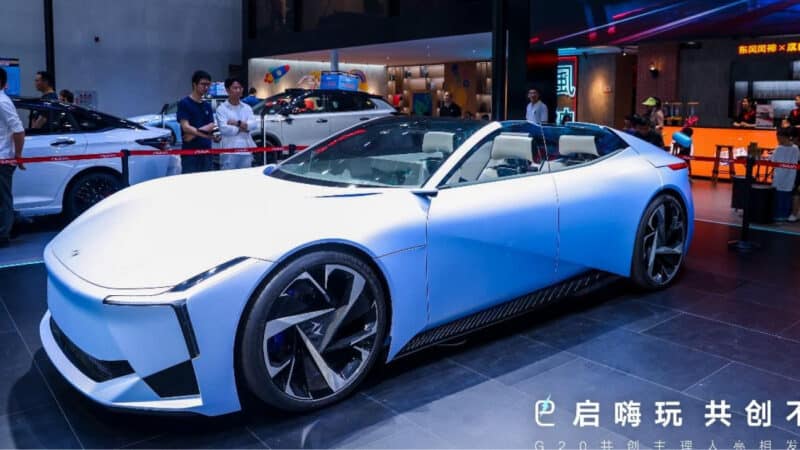 But now, let's talk more about the styling of the Aeolus eπ01. And we should mention that it looks highly similar to the Polestar 5, mainly because of the eπ01's Y-shaped headlights, a low bonnet line with a sharp edge and a front spoiler. Moreover, they look quite similar from the rear, with a continuous taillight unit and a sloped bonnet line. So, the exterior design of the Dongfeng's prototype looks unoriginal. However, it is a subjective point of view. It is still has another body shape and some distinguishing features such as small rear view cameras.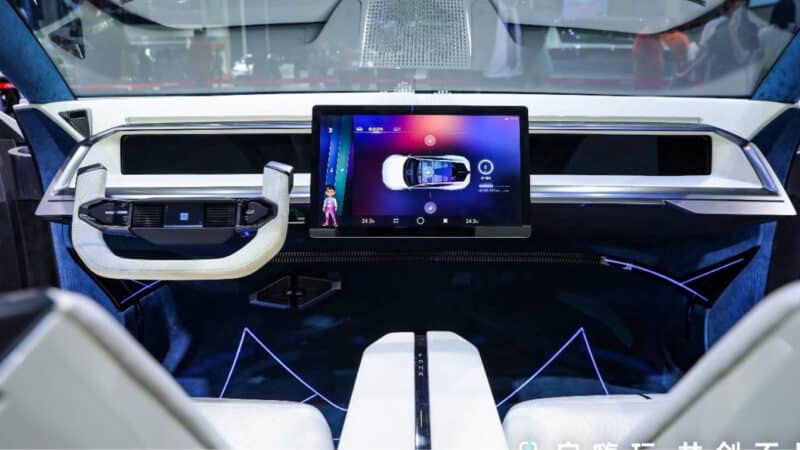 Inside, the Aeolus eπ01 prototype looks way more distinctive. It has a steering yoke, a large floating screen and another monitor behind it. Its pedals are also look interesting since they got triangle shape. As for the gear shifter, it is located in the armrest. Basically, it is just a set of touch-sensitive buttons. And still, it is just a prototype, so it looks more like a clumsy effort. Anyway, we can see where Dongfeng Aeolus wants to be in the next few years.
We should also mention that the eπ01 won't be an only car in the eπ series. Later, it will comprise eight cars. It will help Aeolus to become fully electric in 2025, selling about of 500,000 vehicles. All the cars will stand on the Dongfeng Quantum and DSMA platforms. As for the price range, it is unknown. However, currently Aeolus' cars cost around 65,000 – 210,000 RMB (9,200 – 29,700 USD). It seems that the eπ series will be more expensive. Maybe, its price range will reach 300,000 RMB (42,500 USD).
Editor's comment
It is too early to make predictions about the Dongfeng Aeolus eπ series. However, it will be hard for Dongfeng to enter this market segment. The thing is, it is already crowded, with lots of EVs emerging every month. And Polestar-looking cars won't help Aeolus to stand out from the crowd. Anyway, we will keep an eye on them, so stay tuned!