On September 1, BYD officially stated that it would start selling BYD Dolphin in Japan this month. The BYD Dolphin will be BYD's second foray into the Japanese EV market, following the launch of the ATTO 3. BYD aims to establish a strong presence in the competitive Japanese market with this new offering.
According to BYD's statement, pre-orders for the BYD Dolphin will be accepted starting September 20, which could spark interest and perhaps concern among some Japanese competitors. Japanese automakers are significantly grappling with intensified competition from Chinese manufacturers as the shift toward electric vehicles accelerates.
In its pursuit of success in Japan, BYD will offer a version of the Dolphin compatible with the Japanese CHAdeMO charging standard. Subsequently, BYD intends to introduce its "Seal" model by the end of this year or early next year.
BYD's strategy in Japan involves launching two versions of the BYD Dolphin: the standard and extended battery life versions. Under the WLTC (Worldwide Harmonized Light Vehicles Test Cycle) standard, these versions offer 400 km and 476 km ranges, respectively. Pricing details for the Dolphin in Japan are anticipated to be unveiled soon, although it's worth noting that the model starts at 116,800 yuan (approximately 16,100 USD) in China. Historically, prices for the same model in Japan have exceeded Chinese prices by more than 50%.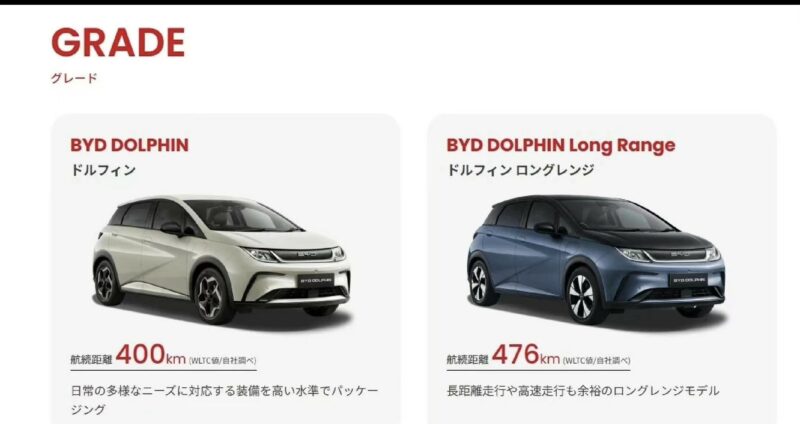 For its initial phase in Japan, BYD will focus solely on selling battery-powered pure electric vehicles. There are no plans to introduce vehicles using other powertrain technologies, such as plug-in hybrid electric vehicles (PHEVs).
BYD has not disclosed any specific sales targets for the Japanese market. A spokesperson for the company declined to specify the annual sales volume required in Japan to achieve profitability.
Since inaugurating its first store in Yokohama in February, BYD has successfully sold approximately 700 units of the ATTO 3 electric SUV, priced at 4.4 million yen (roughly $30,200 USD) before subsidies.
BYD intends to establish over 100 stores across Japan by 2025. Earlier this year, the Japanese subsidiary of BYD entered into a car dealership agreement with the Japanese trading firm Sojitz, reflecting its commitment to expanding its footprint in the Japanese automotive market.
Source: iTHome