On September 20, BYD Japan held a new product launch conference in Tokyo, marking a significant milestone by introducing the BYD Dolphin, the company's second electric car in the Japanese market.
The official website of BYD Japan reveals that the Dolphin standard version is priced at 3.63 million yen locally. It is equipped with a 44.9 kWh power battery and boasts a WLTC cruising range of 400 kilometers. In addition to the standard version, BYD Japan unveiled a long-range variant, priced at 4.07 million yen (27,500 USD), which features a larger 58.56 kWh power battery and an extended WLTC range of 476 kilometers. To provide some context, the BYD Dolphin's price range in China is between 111,000 to 131,000 yuan (15,200 to 17,900 USD). When factoring in Japan's subsidies for electric vehicle (EV) models, the starting price of the BYD Dolphin maybe 2.98 million yen (20,100 USD) after subsidies.
The configuration of the Japanese version of BYD Dolphin is closer to the European version. For comparison, the price of the European version is starting at 29,990 euros (32,000 USD).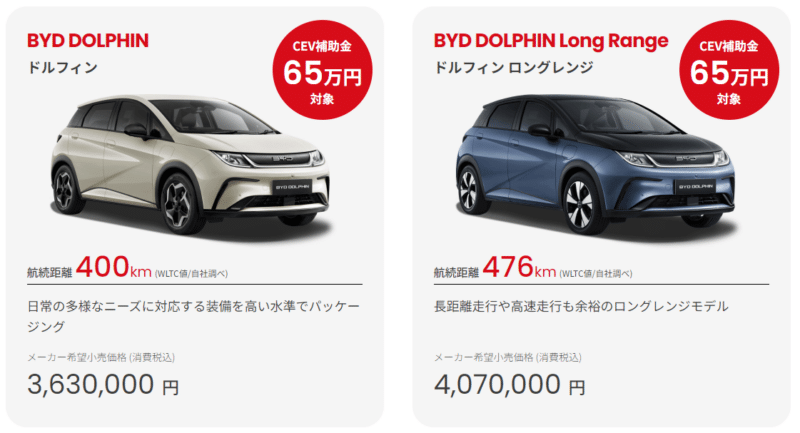 Notably, the Japanese version of the BYD Dolphin exhibits differences in body size compared to its Chinese counterpart. The Japanese model measures 4290mm in length, 1770mm in width, and 1550mm in height, with a wheelbase of 2700mm. In contrast, the Chinese model's dimensions are slightly smaller, with a length of 4125mm, a width of 1770mm, a height of 1570mm, and a wheelbase of 2700mm. The European version of BYD Dolphin is almost the same as the Japanese version. The only difference is that the European version is 2 cm shorter than the Japanese version.
The BYD ATTO 3, the company's first pure electric model introduced in Japan, became available in January of this year. It was initially priced at 4.4 million yen, later reduced to 3.55 million yen after accounting for Japanese government subsidies.
BYD's entry into the Japanese market began with the opening of its first showroom in Yokohama in February. The company plans to establish over 100 showrooms across Japan by the end of 2025, with ten already operational as of August 21. BYD's promotional slogan in Japan, "Let BYD electric vehicles enter the daily life of Japanese consumers," underscores the company's commitment to integrating electric vehicles into the everyday lives of Japanese consumers. Additionally, BYD plans to introduce its Seal models in the Japanese market in the near future.
Source: BYD Japan