ChinaDaily reports that FAW's (First Auto Works) net profit is up 49.8% compared with 2008. FAW has joint ventures with Volkswagen, Toyota and Mazda and produces cars under their own Besturn and Hongqi brands. The numbers are yet another sign that the Chinese market keeps growing fast despite the recession everywhere else. The numbers do not include FAW's commercial vehicle sales. China Daily talks:
FAW Car Co, a unit of one of China's three largest auto makers, First Automotive Works, said Thursday its net profit rose 49.8 percent to 1.6 billion yuan ($234 million) in 2009 from a year earlier, fueled by strong sales.
Business revenue was up 37 percent year on year to 27.7 billion yuan in 2009, and earnings per share amounted to 1 yuan, a rise of 49.8 percent compared with the same time last year, said the company in its annual business report filed to the Shenzhen Stock Exchange Thursday.
The company attributed the growth to robust sales and output and a booming market, but it did not give specific figures in the report.
The share price of the company lost 4.58 percent to end at 22.07 yuan in Shenzhen Thursday.
China overtook the United States to become the world's top auto maker and market in 2009, with annual output reaching 13.79 million units and sales hitting 13.64 million units last year, according to figures from the China Association of Automobile Manufacturers (CAAM) in January.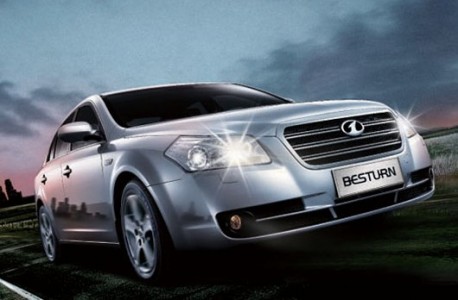 FAW-Besturn B70