Here we have a very interesting car from China. This is the Xinkai Ruiteng 4-door pickup-SUV. Ruiteng is best translated at 'Vigorous Gallop', like a horse does in the movies. The Xinkai Ruiteng is made by the Xinkai Auto Manufacture Corporation from the great city of Gaobeijian in Heibei Province.
Their main business is a joint venture with Mercedes-Benz which makes the Sprinter II for the Chinese market. When Benz found them in 2004 they made crappy but somehow fascinating SUV's, they still do, and the Ruiting is one of 'm.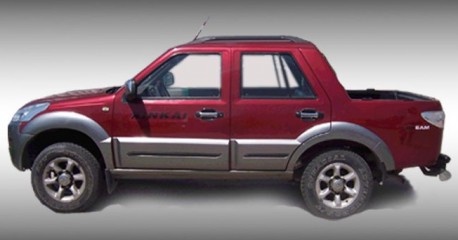 An original concept and an original design, likely based on an old Isuzu platform, although Xinkai doesn't say where they got it from. Some Isuzu-influences here and there but a lotta'the drawing seems more influenced by some healthy bottles of baijiu than anything else.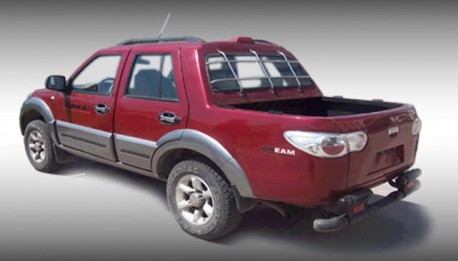 I especially like the rear-end which loox like a sail boat, a very round sail boat that is. Shape of the lights is very spaced out. Bars in front of the rear window have to prevent drunk'n cows jumping through. Powerrrr! Yez it has. Two engines available: 2.2 patrol with 76kw and 190nm or a 3.2 diesel with 70kw and 225nm. Those engines sound very Isuzu again. Claimed max speed is the same for both engines: 120km/h.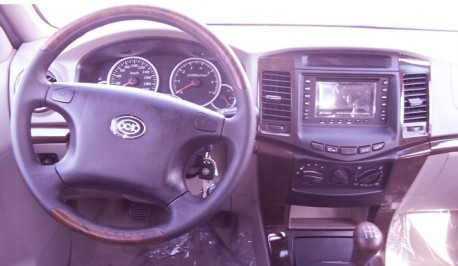 Interior not as coolio as the exterior. Crap plastics, crap wheels but at least it seems to have some infotainment system. 5-speed manual, no automatic available. Price for all this pretty: some 70.000 yuan for the patrol powered Ruiteng. That indeed, is an old-school Chinese crap car price, great they still around!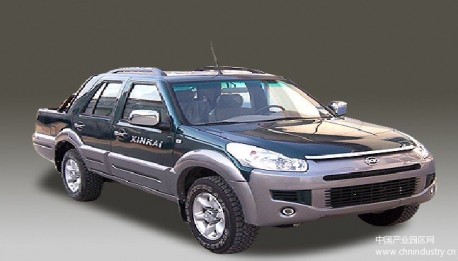 Great in green!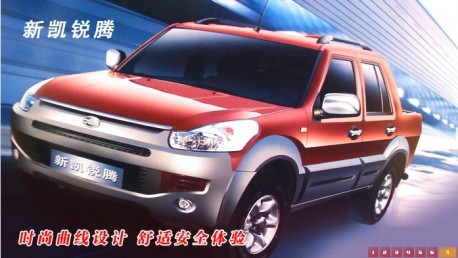 Factory pic, in red again.