New spy shots from the Volkswagen Magotan Blue Motion in China. The Magotan is basically a Passat B7 stretched by ten centimeters in the middle and therefore called B7L. Interestingly the Blue Motion will be powered by a 1.6 TDI diesel engine, while diesels are forbidden in most Chinese cities. Volkswagen possibly got an exception, otherwise it is very unlikely they would offer the Blue Motion in the first place.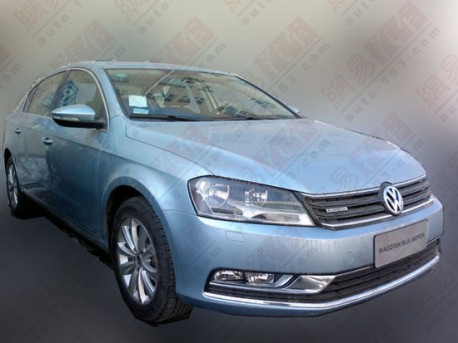 China wants clean cars and the Blue Motion certainly is. It only uses 4.1 liter for 100 km and emits just 109 g / km. Engine is the 1.6 TDI with 103hp and 250nm. The Magotan Blue Motion will be made by the FAW-Volkswagen joint ventures alongside the 1.8 TSI and the 2.0 TSI, a big V6 is on its way as well which makes things even in the men vs environment boxing match.
The China-made Magotan blue-motion is expected to debut at the Beijing Auto Show next month, it will be listed on the Chinese car market later this year.
Via: 163.com.