This is the fantastic Nissan Skyline GT-R R34. A Japanese monster car seen by reader HK-bob (LOL :)) in the great city of Hong Kong a couple of days ago. Well, this kinda pics make our mailbox very happy, thank you! The Skyline GT-R R34 was made from 1999 until 2002, and it was officially exported to Hong Kong, but not to the rest of China.
Hong Kong still drives on the wrong side of the road, a left over from British rule, just like Japan. No need so for expensive re-engineering to get the wheel to the right, the GT-R could hit a road race straight from the boat.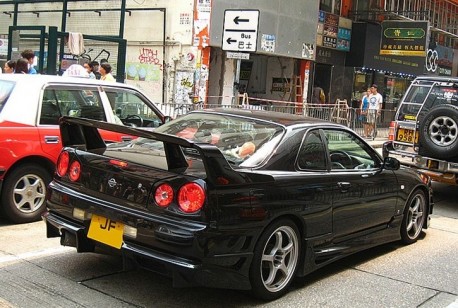 Check gigantic exhaust pipe on the left! This nasty black example is tuned up with extra body work and a huge wing. Down force it needs! The base Skyline GT-R R34 was powered by Nissan's famous 2.6 liter 'RB26DETT' twin-turbo six-in-line, pooping out a hefty 335hp and 392nm.
By the time Japanese auto makers were still under the spell of a ridiculous 'gentlemen agreement' limiting power on all their cars to 280hp. Sure enough, the GT-R's power was officially advertised as 280hp, but any dealer would tell you the truth, if you asked…