A very fast and very customized Brilliance BS4, seen in the streets of the great city of Shenyang in Liaoning Province. This BS4 is made pretty with a full-fladded body kit, aggressive red racing stripes, fake air vents on the bonnet and on the roof, speedy wheels and a big wing on the back.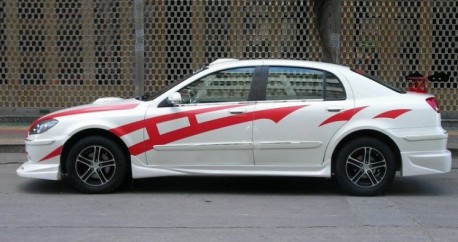 The good BS4 was Brilliance's first entry into the medium-sized sedan market, it sold reasonable well and is rather popular in the customizing circuit, earlier on we met an even madder monster BS4 with Lambo-doors. Production of the BS4 started in 2007 and continues until today. There are three engines available; a 1.6, a 1.8 and a 1.8 turbo with 170hp. This screaming white car comes with the 1.8 turbo tuned up to 230hp and that will be just enough to carry all that extra plastic around.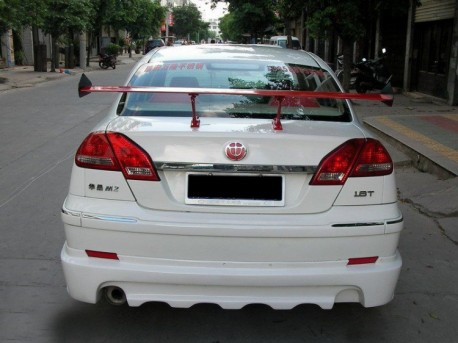 Rear spoiler under the bumper seems to have been designed for two exhaust pipes, but this BS4 got only one. That indeed is messy! Red wing however is really good. The owner of this fine machine spend 10.000 yuan on parts to get it like this. Mucho money, but there sure ain't any other BS4 that loox the same. Good work, approved!