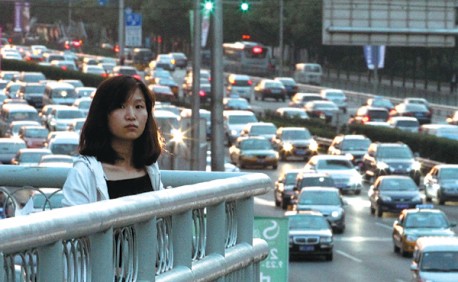 Beijing will continue to limit new vehicle registrations through a lottery system next year to hold down the number of vehicles on the road, the transportation authority said on Thursday.
Li Xiaosong, deputy director of the Beijing Municipal Commission of Transport, told a news conference on Thursday that granting car registrations via a lottery system is an effective way to prevent the number of vehicles from rising quickly.
The measure was introduced in 2011 to cap new car ownership at 240,000 a year. The capital had nearly 5.19 million vehicles as of the end of November, compared with 4.81 million at the end of 2010. In 2011, only 173,000 new cars were registered, a 78 percent decrease from 2010.
As Beijing residents own a large number of vehicles and the traffic gridlock is still severe, the city needs to continue the restrictive system, Li said. "We are studying measures as well as the new-vehicle registration quota for 2013," he said.
Under the lottery rules, applicants who fail to win in two months are automatically re-entered in subsequent drawings. Given the number of new applicants each month, the odds of winning have been decreasing.
In October, one out of every 59 applicants won a registration, and in November, 67 applicants competed for a car registration certificate. As the end of November, there were more than 1.67 million individual applicants. The lottery is carried out on the 26th day of every month.
Lu Jun, who works at a public relations company in Beijing, said he has participated in the lottery every month since May 2011.
"I have been trying my luck, but I have been disappointed each time I checked the results," the 29-year-old said. "I think my chances of winning would be better if I were to change my name to Liu Xuemei."
The name Liu Xuemei appeared in the car registration winning lists for seven straight months from May to November. The Beijing Municipal Commission of Transport posted an article on its website on Nov 29 denying people's suspicions that the lottery is rigged. The commission said it was a coincidence, and that many applicants have the same name.
Statistics showed that there were 75 applicants with the name Liu Xuemei, and 20 of them had won the lottery, the article said. More than 1,400 applicants were named Wang Lei, and 26 percent of them had won new car registrations, it said.
Li, from the commission of transport, reiterated the fairness of the lottery system at the news conference on Thursday. Yu Lingyu, a law professor at Tsinghua University, said: "Using such administrative means to limit car registrations is comparatively fair, but it leads to some problems. Some people's real needs are not met, while some randomly apply but never use the registration rights if they win."
Transportation authorities could consider applicants based on household units, or blacklisting those who win the lottery but abandon their rights, preventing them from applying again for a certain period of time, he said.
Beijing has taken a series of measures to ease heavy traffic in recent years. They include limiting car usage based on license plates, opening more subway lines and encouraging the use of public transportation.
The city is also considering congestion fees, according to a five-year plan (2011-15) released by the transportation authority.
Via: ChinaDaily.