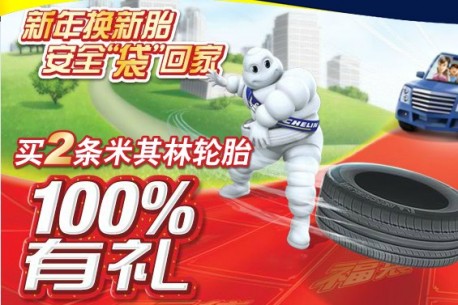 The French tire maker Michelin Group has invested nearly $1.5 billion, its largest single investment in China, to open its biggest factory in Shenyang, capital of Liaoning province. A company executive says it expects its business in the world's top vehicle market to accelerate by two to three times in coming years.
"As the largest auto market with solid and stable growth worldwide, the Chinese tire market is enjoying steady development. Amid such growth, energy conservation and environmental protection have become new trends and considerations for the automotive and related industries," said Jean-Dominique Senard, president of Michelin Group.
"That's why we have placed heavy investment on having a new factory in Shenyang, which will primarily produce high-performance, green tires, with our group's latest leading technologies."
The new factory, the largest Michelin plant in the world, has an annual production capacity of more than 12 million tires for cars, trucks and buses. Car and light-truck tires produced there will include high-performance tires, which reduce rolling resistance and energy consumption while maintaining the same loading and speed performance.
The factory will also produce high-performance radial tires for trucks and buses, which are mainly tubeless tires, while production of tubular tires may change to meet market demand.
Senard said: "As one of Michelin Group's most important markets, we will meet the diversified demands of local consumers through our innovative technologies and products, especially in the high-performance sector, thereby promoting sustainable mobility in China."
Philippe Verneuil, president of Michelin China, said, "We have seen the increasing demand for green tires from discerning Chinese customers, which reflects a supply shortage for our tires last year."
Verneuil added: "We expect our business to speed up by two to three times over the coming years, as the Chinese tire industry will maintain booming momentum, boosted by rapid growth of auto sales in recent years."
Senard added: "The growth in the China market is an important part of our ambition to double Michelin's global sales in emerging markets by 2020. We still plan to open a new factory in China, as well as expanding the production capacity of existing facilities, to boost our business development."
China overtook the US to become the world's largest automobile market in 2009. Between 2005 and 2011, car registrations in China rose by 24 percent annually to reach 14.5 million. The latest report by consultants McKinsey forecasts registrations will grow by 8 percent annually until 2020, to reach 22 million cars.
China is also the world's biggest market for truck tires, with rising demand for more high-end products, along with the rapid development of modern logistics.
Via: ChinaDaily.