This is the new Golden Dragon Righto V3 SUV, it debuted today on a bus show in the great city of Fuzhou in Fujian Province. The Chinese name of the vehicle is Jinlong Ruidu V3. It is made by a company called Xiamen Golden Dragon Bus (web) from the great city of Xiamen in Fujian Province.
Xiamen Golden Dragon is a subsidiary of King Long United Automotive Industry Corporation (web), from Xiamen as well, which is one of the biggest busmakers in China. King Long wants to go into passenger cars too, they have been working on a small hatchback for awhile but it hasn't been launched on the Chinese car market yet.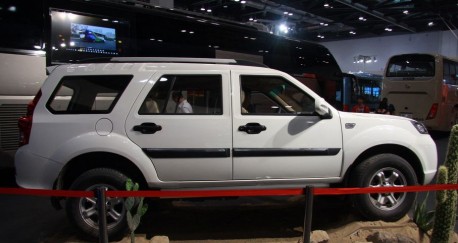 The Righto V3 is based on the Foday Explorer 6, which is made by Guangdong Foday Automobile (web). Golden Dragon and Foday have a license-agreement where Foday makes the base-car, including chassis and bodywork, and ships it to Golden Dragon for final assembly. Engines however are not exactly the same. The Explorer 6 is available with 2.0 and 2.4 petrol engines and a 2.8 liter diesel. The Righto V3 will be available with a 102hp 2.0 petrol and the same 95hp 2.8 liter diesel. Size: 4885x1785x1920, wheelbase is 2237.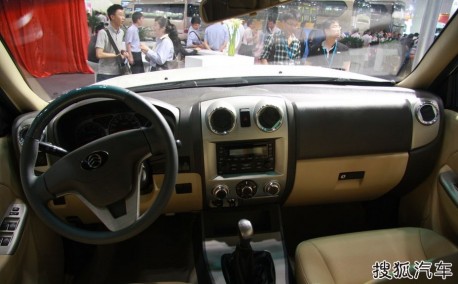 Basic interior, but ugly it ain't. 5-speed manual gearbox, no automatic available. Price will range from about 60.000 yuan to 90.000 yuan, making this Golden Dragon a good deal because the Foday starts at 90.000. Price differs so much because of the 2.2 that is a much older and cheaper engine than the 2.4.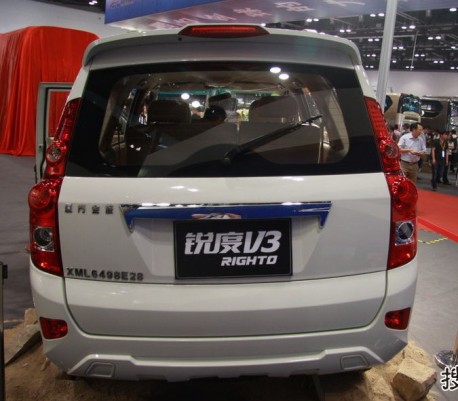 The full designation of the vehicle is XML6498E28, which is rather confusingly the 2.2 petrol. The 2.8 diesel is called XML6498E13.