The major contribution of Fujian province to the Chinese automobile industry is a company called Ningde Shidai, based in the city of Ningde and better known under its international name Contemporary Amperex Technology, or CATL. The company is China's largest battery maker, in permanent competition with LG Energy Systems for the world number one title, and a major driving force behind China's NEV boom. But CATL doesn't make any cars, just batteries. In contrast to CATL's successes, the story of Fujian's real car industry is one of few ups and many downs.
Car production in Fujian province started with two small repair factories in the 1950s, which would later become the Fujian Automobile Factory and the Fuzhou Automobile Factory. Productions would remain very low, in the tens or hundreds per year, for a very long time. Things only started to change when the province created the Fujian Automobile Industry Group (FAIG) in 1992. Like many of its contemporaries, FAIG was a construct to bring the dispersed car industry, mostly parts production in this case, together and improve scale and efficiency.
The Chinese name of FAIG has been translated differently at times, like Fujian Motor Group or similar, but I will call it FAIG throughout the article. This province-owned holding consisted of a few dozen component manufacturers and also the Fuzhou Automobile Factory for a while. FAIG was also meant to replace several state-owned holdings at lower legislative levels (mostly Fujian's cities). The holding would later market brands like King Long buses, Soueast, Mitsubishi, and Qiteng passenger cars and Yudo new energy vehicles.
Interestingly, there isn't really a straight line development of the Fujian car industry from the fifties till now. Factories changed ownership or product portfolio, built alliances that disappeared again and new enterprises were created from scratch. So what follows is a collection of company histories, which only have in common that the company was related to FAIG at some point in time. So let's start with FAIG's most successful investment, bus manufacturer King Long.
Huang Peiyu, military man
In 1988, the city of Xiamen establishes Xiamen Automobile Industry. This government holding is set up to create a bus manufacturing industry in the city. In the same year, an operating company for this purpose is established as a joint venture between Xiamen Automobile, Dongfeng Motor Co., Beijing Huaneng (a power generation company), and Hong Kong Fayao investment fund, all taking an equal 25% share. This is the official story, but the reality is far more exciting.
For that story, we have to meet Huang Peiyu. He was born in Hangzhou (Zhejiang) in 1933 into a wealthy family of landlords. His father was a university professor, who had been educated at MIT University in the USA. In 1937 Japan invaded China and the family fled to Shanghai. Huang's father found a new job at Xiamen University (also relocated to the Jiangxi border due to the Japanese threat). In 1945 the Japanese disappeared and both the Huang family and Xiamen University settled down in Xiamen City, Fujian.
Although Huang was a competent student in high school, he lost interest in his education after the CCP victory in the civil war, and at the age of 18, he joined the army. This was against the wishes of his parents and to their dismay, their boy was stationed in faraway Xinjiang province. He didn't stay there for long, but moved to a new air force base in Lanzhou (Gansu province), not much closer to home. Huang aspired to become a fighter pilot, but was rejected because of his physical traits. Instead, he was assigned to the engineering department.
In 1961 he got admission to the military academy in Harbin, but failed the final exams. Huang got some advanced Russian aircraft engineering books, relied on self-study, and passed the exams later on. During the Cultural Revolution, he got into trouble, because some of his uncles had been high-ranking Kuomintang officials, who fled to the USA, but Huang was eventually cleared of any anti-communist suspicions. He returned to Lanzhou and enjoyed a long, successful career in the military.
After Mao died in 1976 the infamous 'Gang of Four' tried to gain control of the government, but were defeated by Deng Xiaoping's faction. Huang's regiment became tainted, because its military leader was implicated with the Gang of Four. Huang played a role in protecting some of the staff members from prosecution, but by 1982 he had enough of it. Aged 49, he handed in his resignation from the military and moved back to Xiamen.
Economic development
Xiamen City was one of the first places to follow Shenzhen in setting up a Special Administrative Region (SAR), allowing experiments with capitalism and foreign investment. Huang became the manager of the secretary department of the Xiamen SAR. Not much later the exploitation of the SAR was transferred to a government-funded development company and Huang became the operations manager. It was his task to attract business, including foreign investments, and assign land use rights.
In this role, Huang came into contact with the car industry for the first time, because he could shortcut travel visa procedures. When Dongfeng officials wanted to travel to Europe to visit potential joint venture partners, Huang shortened the visa applications from months to weeks. And he joined the delegation himself. Later he undertook similar business trips to Japan and Taiwan.
In 1984 Huang visited Toyota and became impressed with the Toyota Dyna truck. He saw possibilities for the local market and set up a deal for semi-knockdown kits, later to be followed by complete knockdown kits. He set up Xiamen Automobile Import & Export, ordered 2000 units, and enlisted the help of the only car repair shop in town for assembly. In 1985 he left the SAR company to focus on the car business, but ran into trouble right away. Hainan province was under investigation for large-scale smuggling of consumer goods, including CKD kits for cars and his business became suspect. Huang however had done everything legit and after a year's delay, the Toyota's were sold. After this episode, the Import & Export business turned to trade Toyota car parts and made it a very profitable business.
In early 1988 Xiamen politicians asked Huang once again to act on their behalf. Dongfeng had just signed a deal with Citroen and Xiamen was keen to get at least some of the production in their SAR. They established Xiamen Automobile Industry, put Huang at the helm and tasked him with getting a Dongfeng-Citroen factory to the city. They forgot to give him any money though, so Huang and his few staff worked out of some cheap motel rooms, owned by the local Songbai cement factory. Huang tried, but failed. Dongfeng located the entire Citroen project in Wuhan, Hubei.
The birth of King Long
After Huang's failure, the Xiamen politicians wanted to end Xiamen Automobile Industry again, but Huang objected. He stalled the decision-making process, while looking for cash to make the company work. First, he secured a RMB 5 million loan from a Hong Kong bank and then he approached one of his earlier contacts: Taiwan businessman Ye Tong. Ye ran Taiwan Domestic Automobile, which license-produced Opel cars for the local market. He invested another RMB 5 million through his Hong Kong Fayao fund.
In December 1988, Huang established Xiamen Jinlong United Automobile Industry, owned 75% by Xiamen Automobile and 25% by Fayao. He presented the politicians with a fait accompli, Xiamen Automobile was to survive. Now he had to decide on a product. The business license only allowed modified vehicles, but Huang wasn't interested in making cement mixers or sanitation trucks. There was no money to set up passenger car production at a viable volume, so buses it was. Meanwhile, Huang sold 25% of Jinlong's equity to Dongfeng Motor, in exchange for another RMB 5 million in nature.
Time to set up a factory. Huang noticed that the cement factory he rented his office space from, was on the brink of bankruptcy and located within the SAR. He used his contacts within the SAR company and managed to acquire the cement factory at a cheap rate. The Xiamen politicians however smelled an opportunity to get even, after Huang had stood up to them. They used a loophole in legislation to make him pay for the land use rights again, which drained the working capital of Jinlong. Huang went back to his network and finally convinced the power company Beijing Huaneng to invest RMB 5 million as well. This is how we end up with the four equal partners in the business.
Meanwhile, Ye Tong had identified a promising product: a Mercedes O303 bus assembled in Bangkok. This bus had a modern Mercedes frame and a body from Italian manufacturer Padane. Jinlong imported the chassis from Mercedes' Brazilian factory (because it was cheaper) and acquired the tooling for the body from the Bangkok plant. It also took over six technicians from Bangkok, who not only had to set up the assembly line in Xiamen, but also had to learn 100 or so cement workers how to be fitters and welders. Dongfeng contributed its part of the deal by providing tooling for the factory, such as a new paint shop.
Huang's dream and near-death experience
With the first buses rolling off the assembly line in 1991, finally, some money started coming in. The Jinlong bus proved much more modern than its Chinese competitors and sales started to grow. This allowed Huang to start pursuing his real dream: making passenger cars in Xiamen. Making buses was a choice out of necessity, making cars (sedan, SUV, or MPV, it didn't really matter) was the real thing. And so in 1992, Huang established Xiamen Jinlong Wagon, 50% owned by Jinlong United, 25% by Ye Tong's Fayao, and 25% by Chen Jincai, a former Xiamen Automobile director. Ye and Chen later consolidated their stock into Jialong Co, a Hong Kong-based fund.
A year later Huang floated Xiamen Automobile on the Shanghai stock exchange, bringing in fresh cash to finance Jinlong Wagon. Huang was in advanced talks with Volkswagen about a joint venture for the production of the Transporter T4. Although both parties reached a preliminary agreement, the joint venture was dead in the water, because Volkswagen already had two in China, the maximum number allowed. Huang then turned to Yulon, the Taiwanese car maker. Yulon was interested in making a small sedan in China and in November 1995 Huang flew to Taiwan to meet the Yulon management and prepare a draft agreement.
In early 1996 Huang's fortunes suddenly changed. Chinese regulatory officials formulated criminal charges against him for embezzling large amounts of public money. The charges coincided with Huang preparing a Nasdaq listing for Xiamen Automobile, green-lighted by local officials, but frowned upon by federal politicians. The charges said Huang embezzled RMB 28 million in equity and RMB 9 million in dividends during the Shanghai IPO. A court found him guilty as charged in 1998, sentencing him to an RMB 100.000 fine and a (suspended) death penalty!
In a revision of the court case two years later, the death penalty was converted to 15 years in prison, but by then Huang's role in the car industry had already ended.
Power struggle
Huang Peiyu never ran either Jinlong United or Jinlong Wagon himself, but delegated that to qualified professionals. But before going into that, let me say something about the brand names. The buses are branded Jinlong until Jinlong Wagon starts making vehicles in 1996. Then the company starts a dual strategy. Vehicles from Jinlong United are branded King Long (anglicisation of Jinlong) and vehicles from Jinlong Wagen are branded Golden Dragon (translation of Jinlong). From now on I will refer to the companies by the brand name.
Tuo Xinjong was the man in charge of King Long. He was already an experienced manager from Dongfeng, when he joined King Long in 1992. He was the man that transformed the company from a small startup in a cement factory to China's number-one bus manufacturer in less than ten years. That took quite a lot of work. After the first Mercedes-based bus, King Long changed to Dongfeng truck frames for its next models, but that was only a temporary situation. Tuo cemented relationships with international companies for state-of-the-art technology. Chassis were licensed from MAN, Cummins became an engine supplier, ZF supplied gearboxes and King Long developed its own body-making capability.
Wang Mingjie was the man in charge of Golden Dragon. After Huang's problems, the deal with Yulon fell through and there was no product to make. Wang got the company running in two ways: it borrowed bus technology from King Long and it started making vans. Ye Tong had located a set of old Toyota Hiace molds in Taiwan and Golden Dragon acquired them cheaply. Without production qualifications, the vans could only be sold locally. Wang died unexpectedly from a heart attack, while sitting behind a desk in his office, in 1997.
By 2000, the four original shareholders of King Long had made a healthy profit. Their initial investment of RMB 5 million returned dividends totaling RMB 120 million. They only reinvested more money once. In 1998, to increase King Long's production capacity, the company set up a new subsidiary in Suzhou (Jiangsu). The name is Jinlong United Automobile Industry (Suzhou), but the company is known as Higer Bus Company. Yes, a third brand name. King Long owns 70%, and Suzhou city 30%.
Higer took advantage of the decade of experience and crafted a technology transfer deal with Scania. The brand made slightly higher-end products and became the most profitable of the three 'dragons' in no time. In 2001 a sort of corporate mutiny became the source of a struggle over control in the King Long company. Higer managers awarded themselves 43% of the stock of the company, diluting King Long to 40% and Suzhou City to 17%. This placed effective control over Higer with the group of 10 senior managers. King Long brought the case to court, which ruled in favor of the managers.
At the time Xiamen Automobile was trying to get a tighter grip on King Long and its subsidiaries. The city-controlled, listed fund bought out Beijing Huaneng and 1% from Dongfeng for a 51% majority in Kinglong. Dongfeng also sold some shares to Yulon, but both companies sold out to Xiamen Automobile in 2007. Ye Tong sold his shares to Chongxing International, another Taiwanese industrial group. Ye remained a part shareholder of Golden Dragon through the Jialong fund, although King Long acquired an additional 10% for a controlling majority.
At the same time, FAIG sniffed around King Long for the first time. It acquired 17% of Xiamen Automobile to become the largest shareholder in 2001, but returned the shares when the Higer problem played up. Eventually, King Long struck a deal with the group of managers and bought back control in 2003, diverting a spin-off of the company. Nowadays, Xiamen Automobile owns 2%, King Long 63%, and Suzhou City 35%.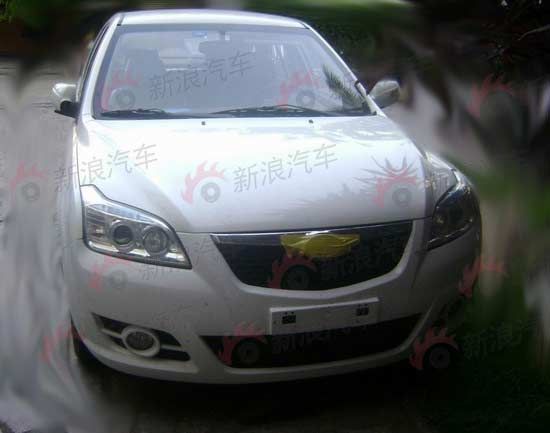 In 2004 Chongxing International passed on its shareholding in King Long to its subsidiary Sanyang Industrial, one of the premier motorcycle manufacturers of Taiwan under the SYM brand. Sanyang and Xiamen were no strangers to each other, they already had a joint venture Xiamen Sanxiang Motorcycle Manufacturing since the early 1990s. Sanyang had just become the contract manufacturer for Hyundai cars in Taiwan and it led to a brief revival of Huang Peiyu's passenger car dream. A King Long branded hatchback, developed with Sanyang and undoubtedly using Hyundai technology, was spotted testing in 2008. The car didn't reach production, however.
Sanyang withdrew from King Long in 2018, making it wholly owned by Xiamen Automobile. By that time, control over Xiamen Automobile had passed on to FAIG. In 2014 FAIG acquired about 20%, making it the largest shareholder again, at no cost. This was a strategic deal, which will be explained later on. Since then, FAIG's share has risen to 32%. Xiamen Automobile, by the way, was renamed Xiamen King Long Automobile Group in 2006, but I used the former name to avoid confusion.
Other businesses
In 2000 King Long established another subsidiary in Nanjing with the support of the local government. Nanjing King Long did not get off the ground successfully and five years later it was restructured. Nanjing-based auto parts maker Dongyu took over the city share and the company started making buses under the Dongyu brand for the local market. Things improved a bit, but not enough to make a profit. In 2011 both partners sold a majority interest to Huang Hongsheng (no relation to Huang Peiyu) of Skyworth fame. You can read the Skyworth story here.
Xian King Long is a joint venture between King Long (20%), Higer (40%), and Shaanxi Automobile (40%), the commercial vehicle maker from the north. It's a small venture of about 5.000 vehicles per year and mainly produces Shaanxi-branded products.
Buses, vans and a pickup
Between 2000 and 2015 the three Dragons combined were the largest bus company in China, also exporting to countries around the world. In 2016 King Long lost the number one spot to Yutong Bus, but they remain in second place today. King Long makes a wide variety of tourist and city buses, Golden Dragon concentrates on smaller city buses and Higer makes high-end tourist buses. There is still a certain overlap between the product portfolios and internal competition.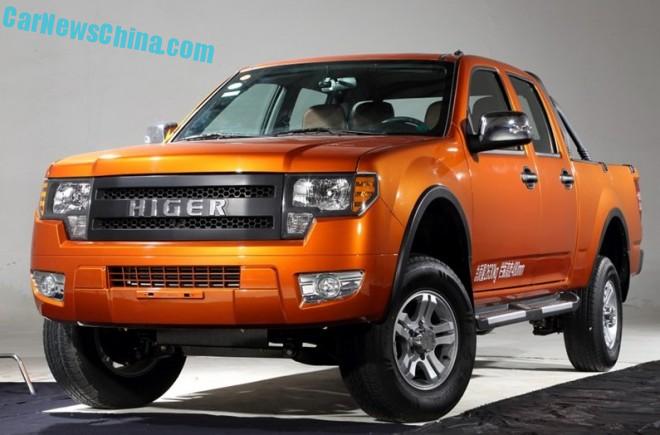 In 2006 King Long Group finally got a full production permit for its brands and that paved the way for Huang Peiyu's dream of passenger cars, although it's limited to vans and a pickup. Golden Dragon secured some technology transfer from Toyota, for Hiace vans and Coaster buses and that set off van production for the group. All three brands assemble a range of Hiace-bodied vans (of different generations). The Hiace body is the most popular choice for many small manufacturers and King Long is the main provider of these bodies alongside Brilliance Jinbei.
When FAIG took control in 2014, it opened the way for another van model. FAIG and Mercedes-Benz already had a joint venture for light commercial vehicles and so the Mercedes Sprinter body found its way to King Long. The Higer brand also markets a generic pickup, based on the well-known Foday architecture. Sales started with the Yujun model in 2011 and it was superseded by the Longwei in 2017. Golden Dragon also produced a Foday-derived model: the V3 Righto. This was an SUV-model and was mainly produced for export.
Next week
Real passenger cars!
Some companies already covered in the BR series: