A giant Great Wall Haval Limousine promoting a spa fitness center in the great city of Shenzhen in Guangdong Province, where it was seen by reader Josh F., thank you for the pictures! amazingly, the Haval Limousine is an official Great Wall product, it debuted back in 2006 and is still in production today, with Great Wall building about a hundred units a year.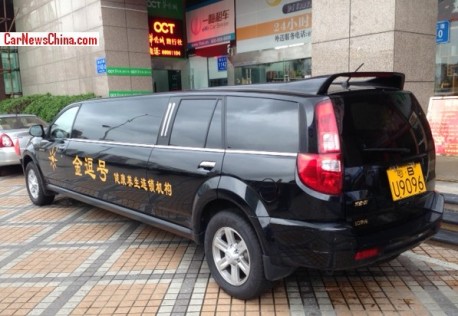 Wing on the roof is standard, taking care of down force…
The limousine is based on the Haval H5 SUV. Length of the limousine is 6.87 meters, just over two meters longer than the standard car. Interesting fact: in 2007, the first year that the limousine was available, length was only 6.67 meter. Great Wall added another 20 centimeter in 2008.
Power comes from a Mitsubishi-sourced 2.4 four-cylinder with 135hp and 205nm. Current price stands at 293.800 yuan or 48.000 USD. Most Haval Limousines are sold to wedding companies and limousine services, but one very special white example went to Cuba for official business.