A Hongqi L5 limousine, driven at high speed on a motorway in the great city of Chongqing, wearing temporarily license plates issued by Jilin-province, home of the Hongqi factory. This particular L5 is a brand new government sled, note flag-pole holder just behind the left-front light. Maybe the new car for the Chongqing mayor?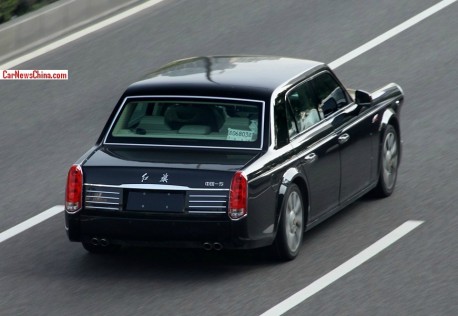 The Hongqi L5 is China's answer to Bentley and Rolls-Royce, the civilian version will debut on the 2014 Beijing Auto Show. The government-version of the Hongqi L5 was launched for official duties during the visit of French President Hollande in late April.
For looks alone it seems to be a winner. A bit retro for sure, but far more special than the German Brits. Power comes from a six-liter V12 with 408hp and 550nm, mated to a six-speed automatic. The L5 is a giant car, sized 5555/2018/1578, and wheelbase is 3435.