French President François Hollande was in Beijing for an official state-visit, focused on trade. Countries agreed many new deals, the biggest being France selling 60 (sixty) Airbus airplanes to China. Hollande thus must have been satisfied. But he was likely even more happy because he was the very first head of state to be ferried around in a brand new Hongqi L5 state limousine. On first pic President Hollande arriving at the Great Hall of the People.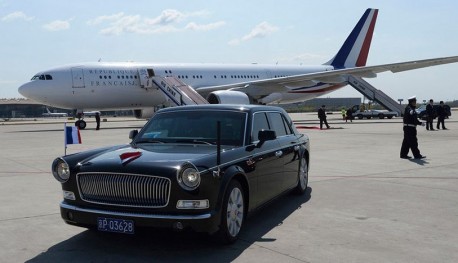 The L5 in front of the French presidential plane. Many websites, including many Chinese, say Hollande's limousine is a Hongqi  L9. But it isn't.
This is the Hongqi L5 that debuted on the 2013 Shanghai Auto Show. The L5 is a short-wheelbase version of the much bigger Hongqi L9 (aka CA7600L), which is only used to transport the Chinese head of state. The L9 measures 6395 mm long, the L5 5555 mm. In between sits the Hongqi L7 with a length of 6097 mm.
The L5 will be used to transport foreign dignitaries in China, and it will be launched on the private car market to compete with Bentley and Rolls-Royce. The status of the L7 project is unclear at the moment.
The difference between the L5 and L9 is furthermore easy to see on the doors; the L9 has suicide-rear doors in Rolls-Royce Phantom style, whereas the L5 has conventional rear doors.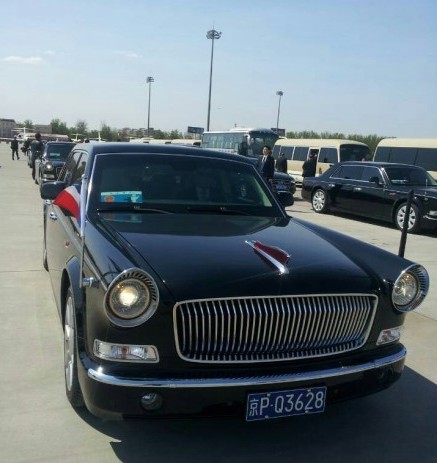 The L5 is still a mighty impressive machine, powered by the same 400hp V12 as the L7 and L9. On pic two more Hongqi L5. The car behind Hollande's car is used to transport the high-ranking Chinese officials who came to the airport to welcome the French President. The car on the right is for the partner of the visiting head of state, who usually has a separate schedule; doing cultural thingies and visiting schools and such.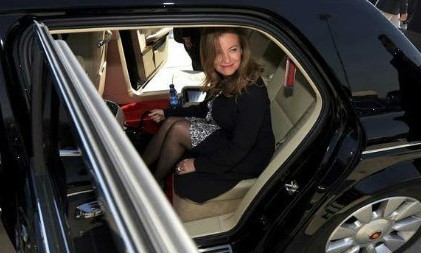 Keep your skirt up! Ms.Valerie Trierweiler, girlfriend of Hollande, in the back of her Hongqi.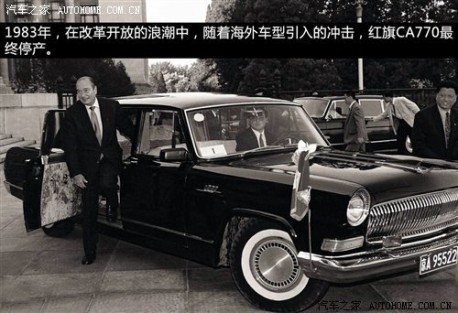 Hollande might be the first French President in a Hongqi L5, but he isn't the first French President in a Hongqi. This is President François Mitterrand during his state visit to China in 1983, getting out of his Hongqi CA770, with proper suicide doors.