Volvo is doing very well under Geely's ownership with sales going up fast. But there is one market in particular where Volvo know it needs to grow even faster; and that is China, homeland of Geely. Volvo is lagging behind the Germans, the Japanese, the Koreans, and basically all the others. Time thus for a bold plan, and that is exactly what they have: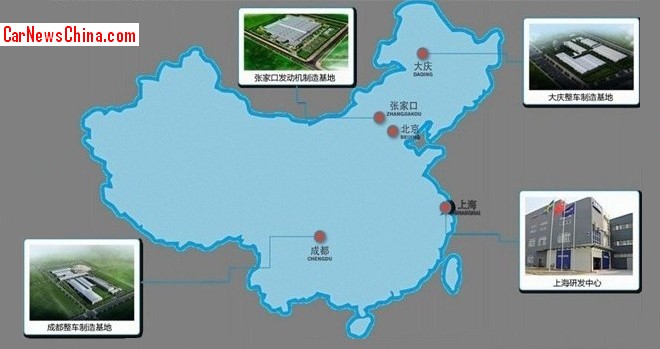 Volvo's operations in China center around four brand new facilities: a car factory in the city of Chengdu in Sichuan Province, a car factory in the city of Daqing in Liaoning Province, an engine factory in the city of Zhangjiakou in Hebei Province, and a design center in Shanghai.
The car factory in Chengdu has started production of the Volvo S60L, a stretched variant of the Volvo S60. The S60L will be launched on the China car market in December. Next car for Chengdu is the Volvo XC60 SUV which will debut in China in late 2014. The Chengdu factory will have a capacity of 100.000 cars per year by 2015.
The car factory in Daqing will make a new SUV that will be positioned under the Volvo XC60. The new SUV will debut in 2015. Next up for Daqing is a 'new energy vehicle', about which we do not have any more details yet. The Daqing factory will also produce cars for the new 'Geely-Volvo joint venture'.
The joint venture will make cars based on old and new Volvo platforms that will be sold under the Geely name. First car will be a Geely SUV based on the platform of the current Volvo XC90, it will debut in 2015. The factory in Daqing will have an initial production capacity of 80.000 cars in 2015 but capacity is scheduled to grow to 300.000 cars in 2020.
The engine factory in Zhangjiakou will make all the engines for the car factories in Chengdu and Daqing.
The design center in Shanghai will design all future China-only Volvo cars, including stretched variants of existing models.
Bold plans indeed, but are they bold enough? The plan counts for a capacity of 180.000 cars in 2015, which is still only a tiny fraction of what Audi makes in China each year. The plans are also absolutely silent about the Volvo S80L. The current S80L is still in production in China, made by the Changan-Volvo joint venture that started business in the Ford days. Geely and Changan are apparently still trying to come to an agreement.
Still, the new cars and new factories will enable Volvo to grow faster in the largest auto market in the world, but it is just not enough yet to seriously scare the Germans.