The BYD Qin dual mode hybrid has been launched on the China car market, finalizing one of the most anticipated car launches in China in 2013. Price starts at 189.800 yuan and ends at 209.800 yuan. However, clean-car subsidies of central and local governments will bring price down by about 35.000 yuan, so the cheapest variant will end up at a mere 154.800 yuan.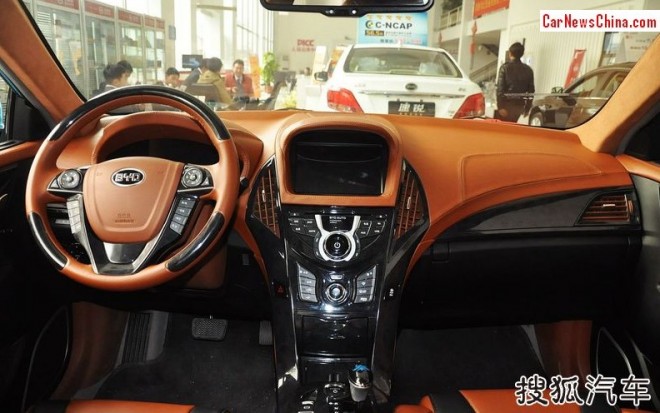 The BYD Qin is powered by a hybrid drivetrain consisting of a 1.5 liter turbo four cylinder petrol engine and an electric motor. Combined output id  303hp and 440nm, making the Qin the most powerful mass-market hybrid passenger car on earth, and it shows. The 1.5 turbo poops out 154hp and 240nm, the electric motor 149hp and 200nm. Gearbox is a new 6-speed DCT.
The Qin is a dual-mode hybrid, one mode being 'hybrid', the other 'pure electric'. Specs, as claimed by BYD: in hybrid mode top speed is 185km/h and 0-100 in 5.9 seconds. In pure electric mode BYD top speed is 150km/h and max range of 70km. Combined fuel consumption is 2 liters per 100km on average. Battery capacity is 13kWh.
The Qin has four driving modes: EV + ECO, EV + SPORT, HEV + ECO, HEV + SPORT. The first is for green, the latter for racing, and the other two hang in between and don't really matter.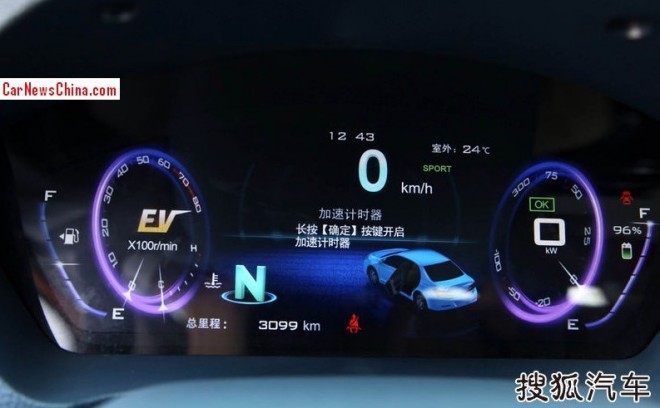 Space age dials will appeal to geeks. On the left electric power, on the right gasoline power. Graphic of car especially good. Rear-left door is open…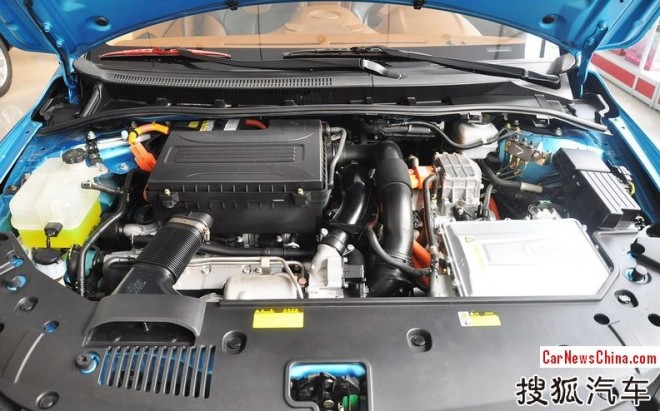 The high tech drive train barely fits under the bonnet.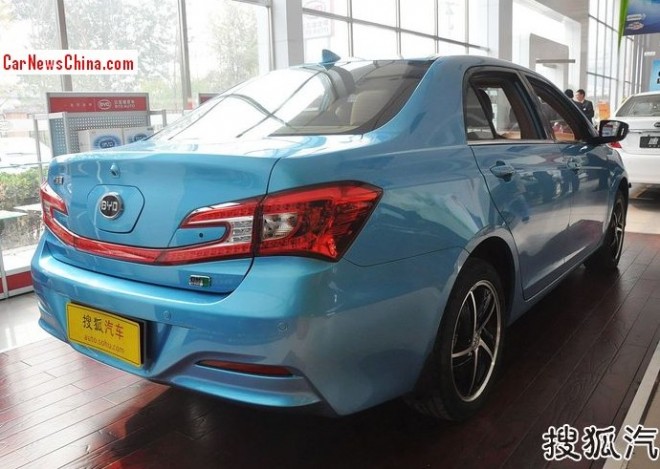 Brilliantly designed rear light survived from concept phase. Daring, and thus very good.
---