An absolutely brilliantly beautiful Rolls-Royce Silver Spur III Mulliner Park Ward Limousine, Spotted in China in Beijing by Reader Dominik H., thank you for the pictures! The Rolls-Royce Silver Spur III was manufactured from 1994 until 1996. The Mulliner Park Ward Limousine was only made in 1994 and 1995.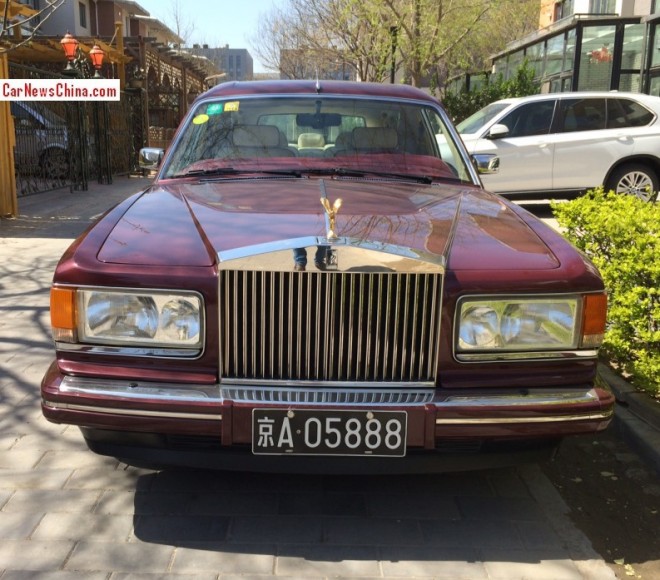 The giant Roller apparently belongs to a rental company in Beijing. The black plates indicate it has been in China for a while. Black plates were issued to foreign owned companies in the 1980's and 1990's. These companies were allowed to import their own cars. This particular plate however might be an old-looking fake as the combination of three '8' is almost too good to be true.
The 8 is a lucky number in China and is thus seen very often on happy occasions such as a marriage or the opening of a business. It so seems this Roller arrived at a later date, most likely imported gray from the United States. But however it arrived, it is great to see this British automotive legend living in the Chinese capital.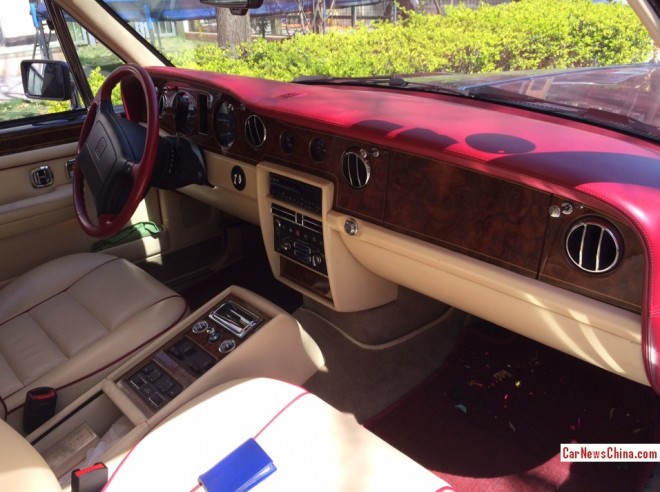 Dash in red leather and beige. Walnut wood. Front seats surprisingly sporty with red stitching.
The Rolls-Royce Silver Spur III Mulliner Park Ward Limousine was offered officially by Rolls-Royce. It was also called 'Silver Spur III Touring Limousine'. It was stretched and fitted, hence the name, by famous coach builder Mulliner Park Ward. In two years only 36 examples were built, making this one of the rarest recent-history Rolls-Royces.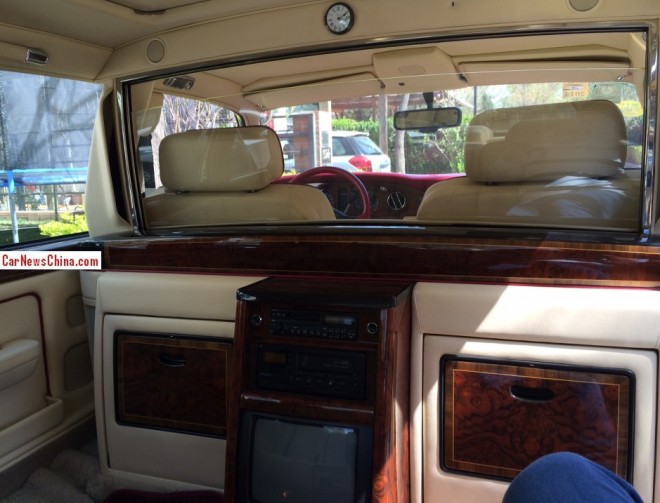 Division window made of thick glass. Much more walnut wood. This car is equipped with a radio/cassette player, a video cassette player, and a single TV screen in the middle. Customers could also spec one screen on each side.
The Mulliner Park Ward Limousine is stretched by 61 centimeters and heightened by 4.8 centimeter, making for a size of: 5979/2009/1534, and a massive 3772 wheelbase. Power comes from the famous Rolls-Royce 6.75 liter V8 engine. The exact output is as always mysterious but there are enough horses to propel the Limousine to 201km/h and to accelerate from 0-100 in 11.2 seconds.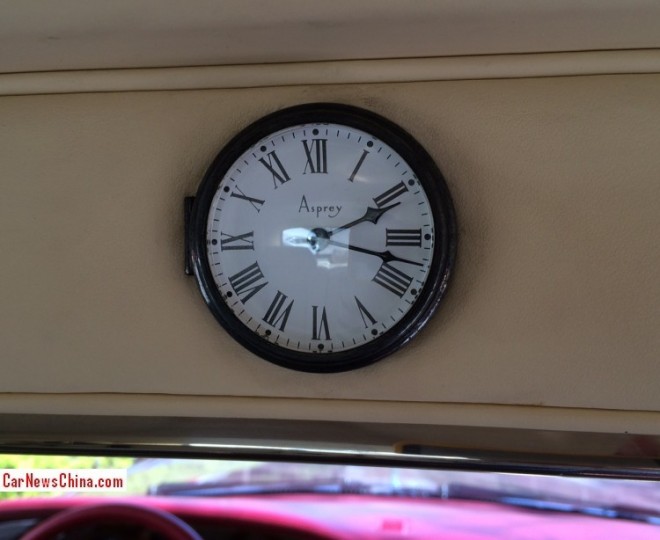 The original Asprey clock still ticking proudly above the division.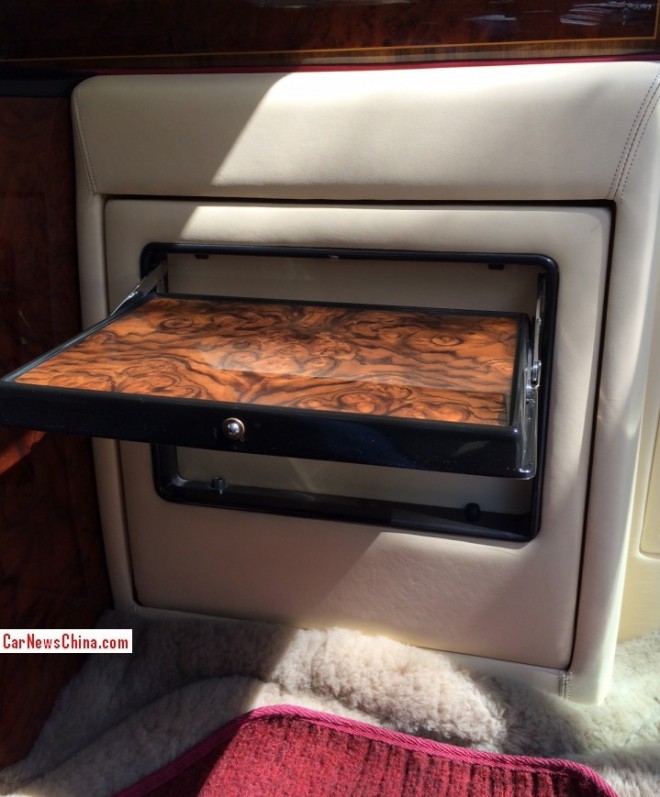 Tray table made of walnut wood (what else?). Thick white carpets partly covered by thinner red carpets.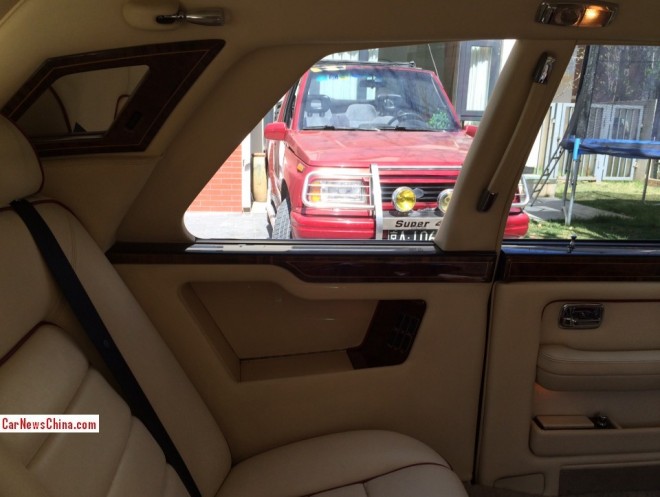 The view from the rear bench. Looking at a 1990's Suzuki, likely with real black plates.
Alloys a work of art. Mulliner Park Ward England.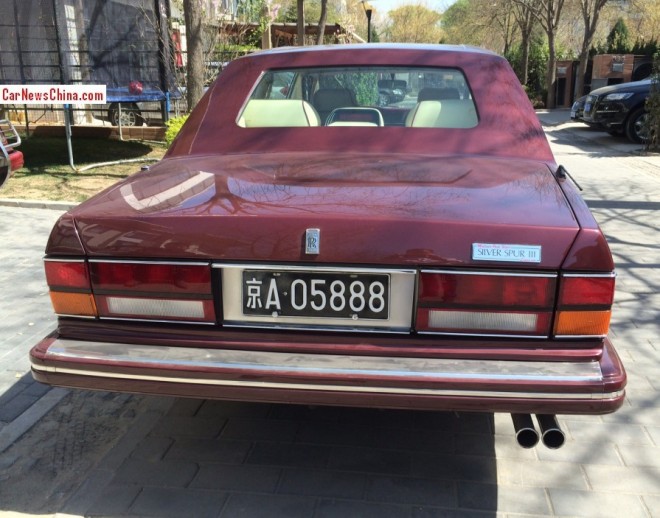 Partly closed rear window for even more privacy. All taken together a perfect example of a perfect car. Astoundingly impressive and yet very modest in a true British way. May she ride the streets of the capital for a long long time more!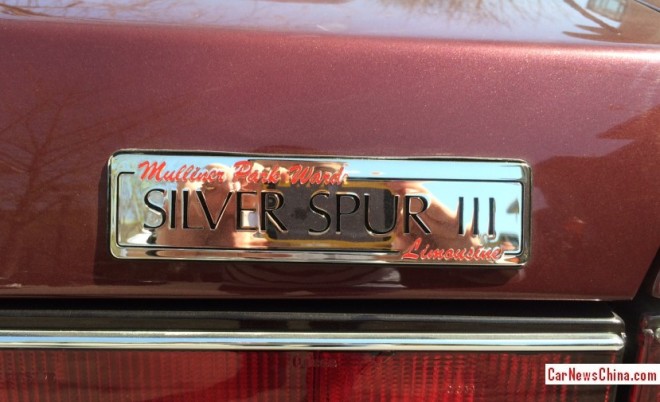 With thanks to the great website Rolls-Royce Silver Spirit by  fellow Dutchman Marinus Rijkers for the details of the Limousine.