A very sleek Buick Skylark GS, Spotted in China on a second hand car market in Beijing by reader & serial spotter Navigator 84, thank you for the pictures! The Buick Skylark is one of the maddest American sedans ever made, with a completely crazy sharply pointed grill and front bumper, lines going anywhere, and a partly covered rear-wheel arch.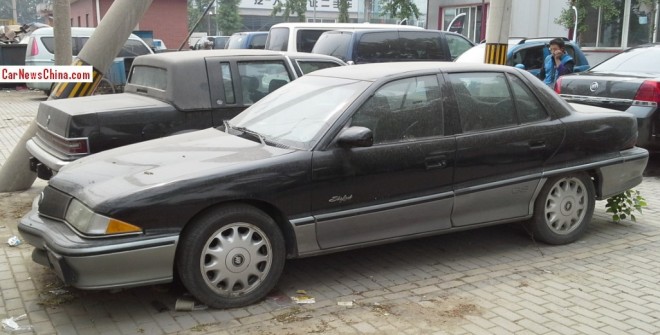 Line starts at front bumper and moves up to rear bumper. Brilliant! Note GS badge on the rear door.
The eighth generation Buick Skylark was manufactured from 1992 until 1998 with a facelift in 1996, this is a pre-facelifted car. The Skylark was never exported to China so how this fine American sled ended up in the capital is somewhat of a mystery.
The Skylark was available with a 120hp 2.3 liter four-cylinder or a 160hp 3.1 liter V6, both gasoline, and mated to a 3-speed automatic. The GS was the top-of-the-line Skylark and was powered by the V6.
The 1996 facelift killed the madness, turning the Skylark into just another boring sedan. No wonder then that the Skylark was subsequently killed completely in 1998, and the name never returned again.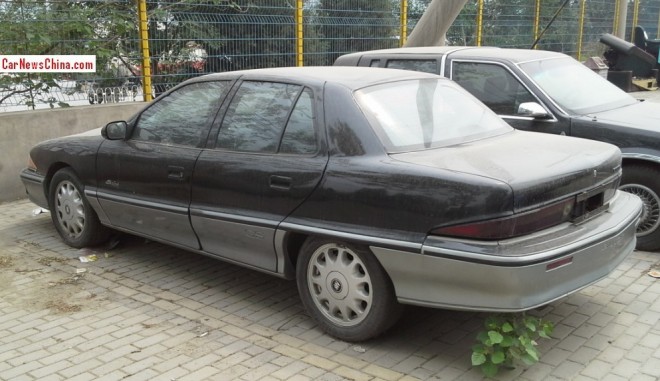 This particular example seems in good condition. Wheel covers are period-standard. Paint is fading a bit but a good cleanup will fix that. No rust, no missing parts, and no visible damage. Still, the vehicle looks abandoned, without license plates and with a baby tree growing big under the bumper. Let's hope someone takes her back on the road, crazy Beijing just needs this crazy Buick.
---