The Mercedes-AMG GT S has been launched on the Chinese car market, priced at 1.68 million yuan or a hefty 270.000 USD. The GT base model will follow in September with a price of some 1.3 million yuan. Mercedes-Benz clearly trying to milk the rich Chinese cow as hard as they can; forcing eager buyers to go for the most expensive model.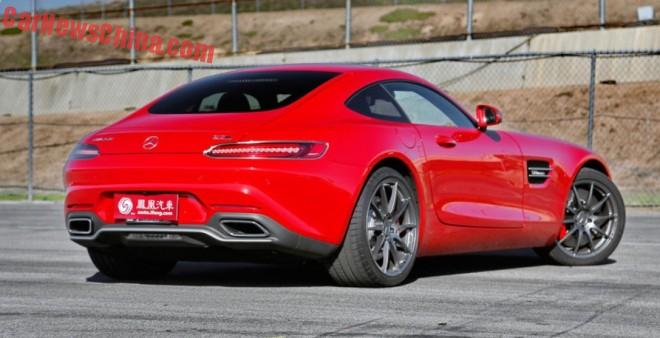 Price of the AMG GT S in the United States is only 129.900 USD. The enormous difference can be explained by greed and to a lesser extend by China's notoriously high import taxes. 'Lesser' because the engine of the GT S measures 3.982 cc. Cars with engine of four liter and above hit the highest import tax of 40%, cars with an engine below 4.0 liter pay 17%.
The Chinese market is now the largest in the world and that is why many manufacturers go for smaller turbocharged engines. Think the Ferrari 488, all McLaren's, the Porsche 911 turbo, BMW M5, all the new AMG's, and many more.
A simple calculation learns that with the 17% import tax the price should be 152.000 USD. Manufacturers usually claim that 25% of the Chinese price is made up of transportation costs and handling fees. This seems absurd to us but let's just believe them for a moment: 0.25 x 1.68 = 420.000 yuan =   67.640 USD, plus that to 152.000 and you got 219.640 USD. Still a 90.000 USD difference!
But it can be worse, much worse… When new, the extremely popular SLS AMG retailed for 3.62 million yuan or 590.000 USD. With a 6.3 liter engine and thus more tax, and with even more German greed.