A beautiful Mercedes-Benz SLS AMG super car, Spotted in China in in the great city of Shanghai by Reader Chiprdan, thank you for the pictures! The speedy Merc' is wrapped in an eye smoothing matte brown wrap, with a touch of gold, and further sexed up with darkened windows, darkened headlights, a red-leather interior, and matte black ten-spoke alloys with yellow brakes.
Rear lights surrounded by black strip. The wrap appears to be of top quality and is neatly extended over the upper parts of the bumpers. The mirrors are carbon fiber.  Rear wing in upright position for speed on the parking lot.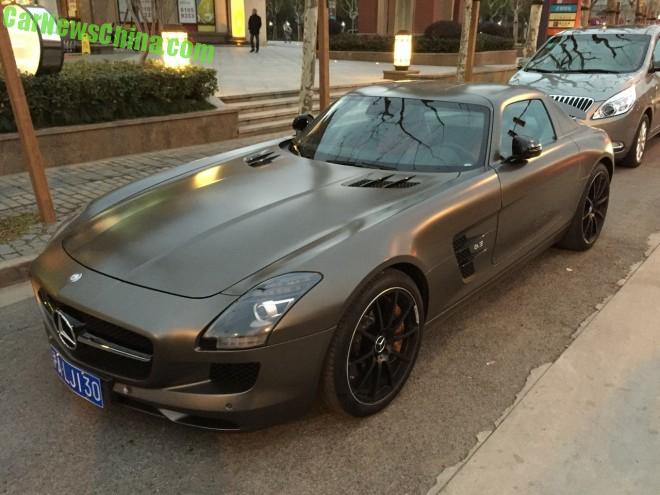 It is the first time we see and SLS AMG in brown, and it is doing the German super sled a lotta good.
The SLS AMG is one of the most popular super cars in China ever, When new price started at 3.62 million yuan or 590.000 USD. Power comes from a rumbling and bumbling 6.2 liter V8 with 560hp and 650nm, top speed is 317km/h and 0-100 is gone in 3.8 seconds.
Time now, for our Famous China-SLS AMG Collection™: BAPE, with F12, selling house with girl, license (AMG991), with Aston, yellow or green, gold, with babe on bonnet, purple, pink, bag trousers, pink-silver, bling (scroll down), crash, and a  Mansory Cormeum.