This is the production version of the China-made Cadillac CT6, the new flagship of the Cadillac brand. The big American sled is seen here inside the exhibition hall of the 2015 Chengdu Auto Show, where it will debut officially on Friday. But we won't wait that long!
The much-hyped Cadillac CT6 debuted in March in New York, it is set to compete with the lower-priced variants of the Audi A8, BMW 7, and Mercedes S-Class. In China, it is manufactured by the Shanghai-GM joint venture, and it will be launched on the Chinese car market in Q4.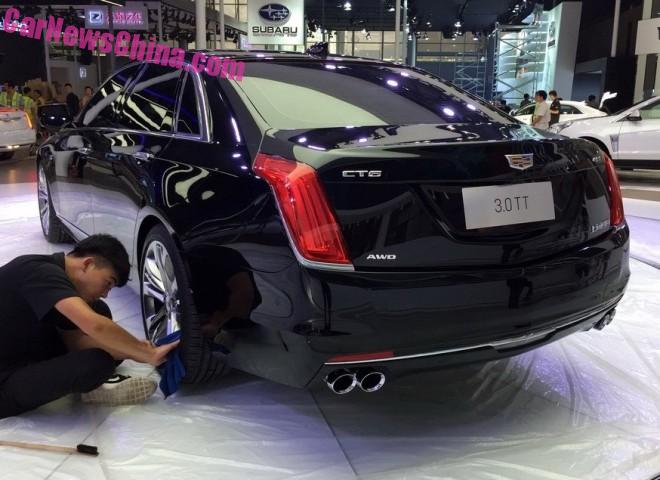 The Cadillac CT6 will be available with three engines: a 2.0 turbo, a 3.0 V6, and a twin-turbocharged 3.0 V6. All engines will be mated to an 8-speed automatic, sending power to the rear wheels or to all wheels. The CT6 stands on the new GM 'Omega' platform that will also underpin a future big-barge Buick that will be manufactured in China exclusively for the Chinese market.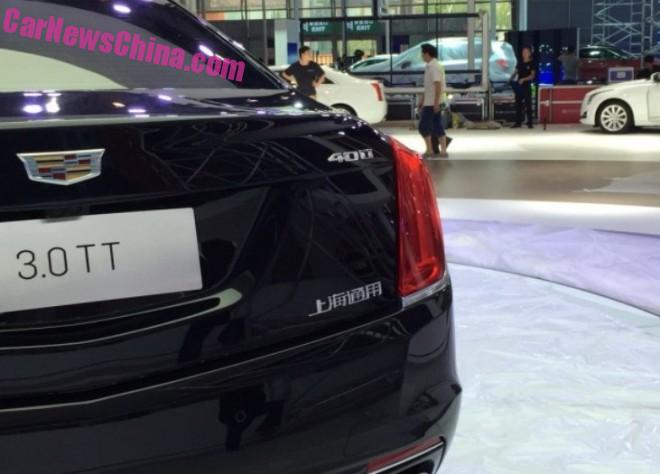 On the right just above the bumper sits the Shanghai-GM badge. Above that on the boot lid a '40T' badge, which is the Chinese designation for the '3.0TT' twin-turbo V6. But on the license plate holder sits a plate with 3.0 TT. Using both designations at the same time is a tad too confusing. Fix that, Cadillac, before the show begins!