This is the new Jinbei Diazi, formerly known as the Jinbei MS3. The new name is hard to pronounce even in Chinese and doesn't really seem to have a meaning. The Diaze is also a clone of the Acura MDX, and Jinbei even managed to copy an Acura color.
This is the real Acura MDX. Check overall shape, side-window line, roof line, roof rails, bonnet shape, headlights, grille, are under the headlights, and bumper shape. Only the pods in the bumper and the lower bumper differ.
Size Diazi: 4800/1850/1700, and wheelbase is 2800.
MDX: 4953/1960/1715, and wheelbase is 2820.
We call that a clone!
The Diazi will be powered by 1.5 turbo and 1.8 four-cylinder petrol engines, both mated to a six-speed manual. Output of the engines is yet unknown. Estimate: 150 for the 1.5 turbo and 160 for the 1.8.
Price will start around 100.000 yuan and end around 140.000 yuan. Price for the Acura MDX starts at 739.000 yuan and ends at 795.000 yuan. Lone engine is a 3.5 V6 with 293hp, mated to a six-speed automatic.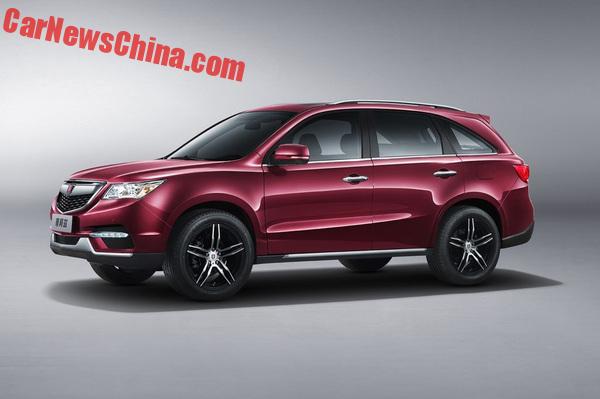 Side by side. Jinbei nicked the mirrors too, and the doorhandles, and the rear spoiler.
Jinbei is a brand under Billiance Automotive. They used to make only minivans and other small commercial vehicles, but they have been moving into passenger cars since a few years. The Diazi is their largest and most expensive car so far. Brilliance also has a major car-making joint venture with BMW.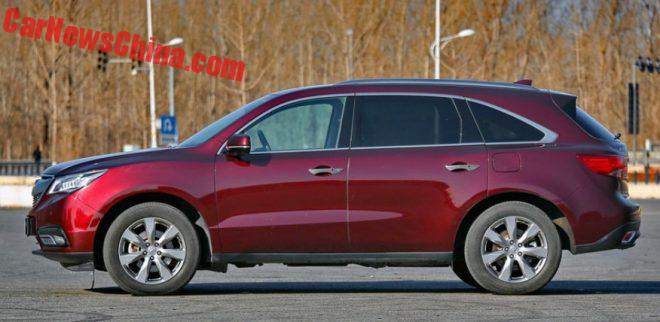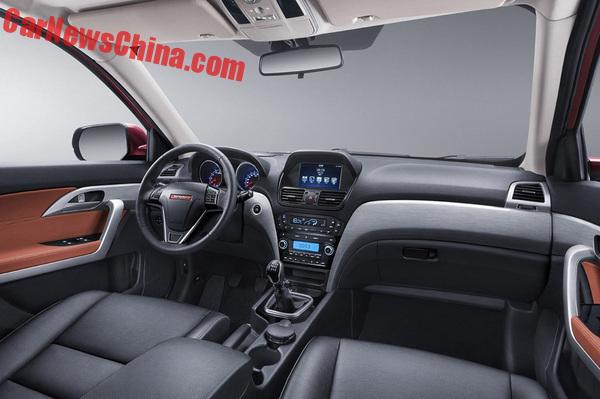 The interior looks surprisingly crappy. There are many Chinese automakers that make cheaper cars with much better interiors than this. So much ugly plastics and ill-fitting panels! And that on an official factory photo. Can't wait to see the real thing. The dash doesn't seem to be much of a copy of the MDX, but look closely and you will see…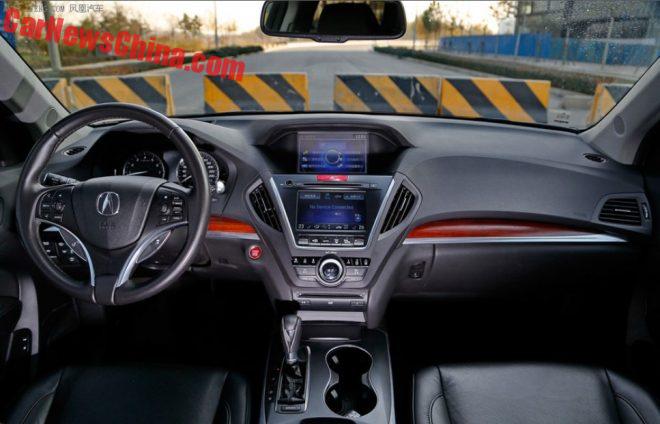 … air vent on the right side of the dashboard, shape of the panels connecting the center tunnel with the center stack, and the cup holders.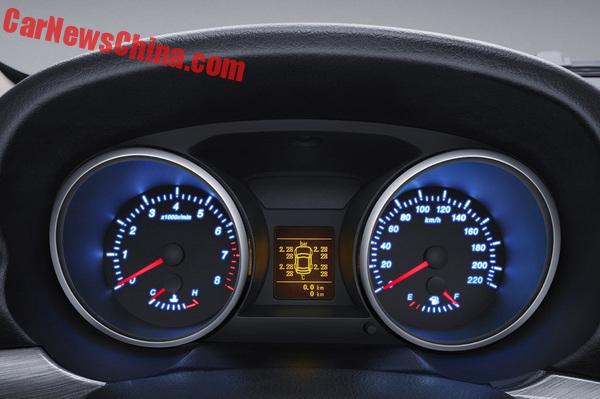 No digital instrument panel for Jinbei, lagging behind their rivals again.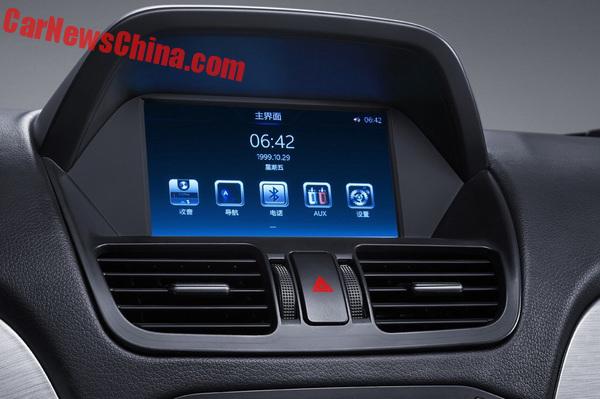 A ridiculously small touch screen, much smaller again than anything the local competition offers.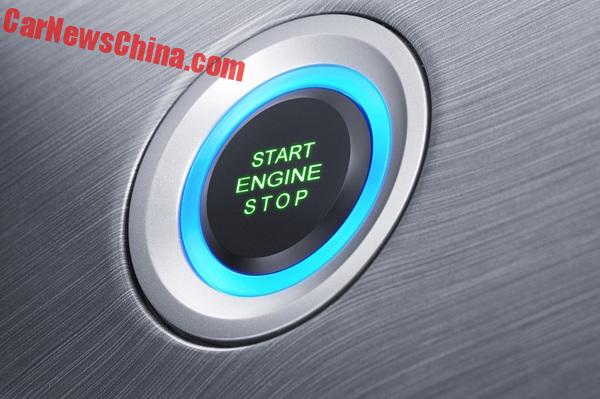 Start button looks kinda cool, with blue and black and green lettering. Happy, me so happy, wanna press that button, start me MDX clone, drive into the sunshine to Jinbei land.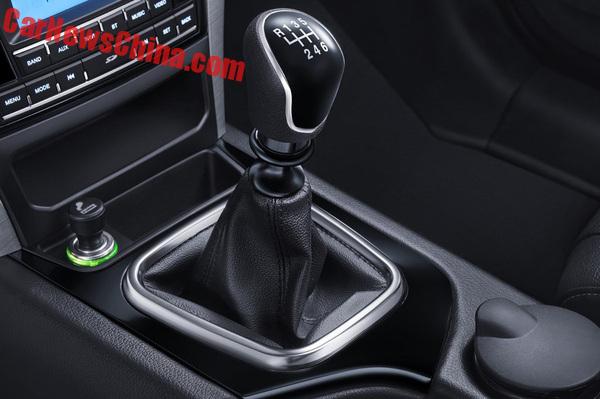 Now that is a properly marked and properly placed cigarette lighter. Jinbei betraying its commercial vehicle roots there, knowing its customers; chain smoking Chinese construction crews and such.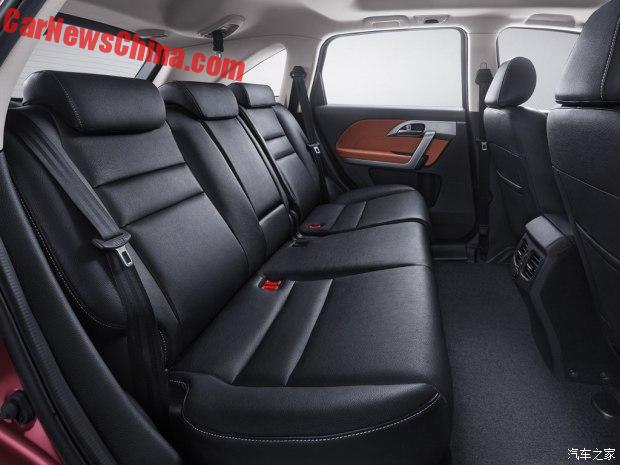 Black seats and gray carpets and orange door panels.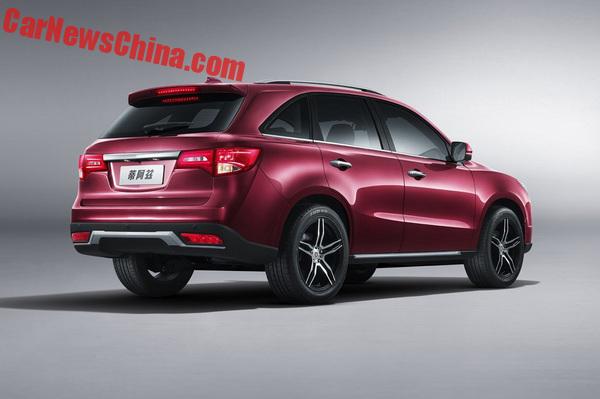 There we go again for another round. Check: roof spoiler, roof shape, rear window shape, rear door shape, rear lights shape, chrome strip between the lights-shape, and the bumper shape. Only the windshield wiper and the fog lights in the bumper differ a bit.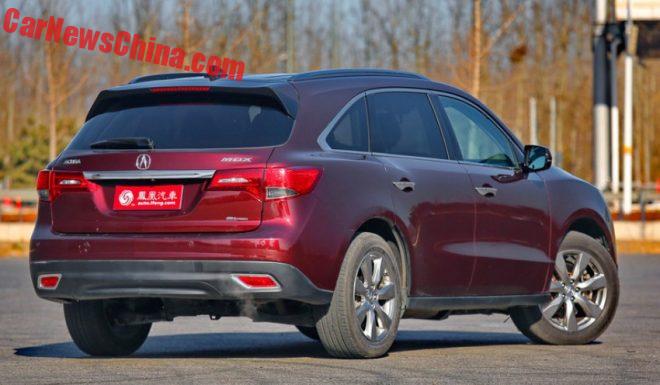 The real MDX.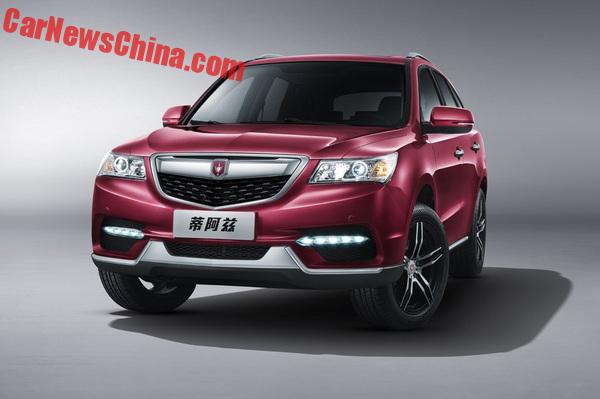 The horror.