This is what Hummer could have been had they seen the light. But they didn't. Bodo did. This indeed is the Bodo BD10, a low-speed electric vehicle (LSEV) that I saw on the 2017 Jinan EV Show. Its beautiful boxy body is all about Hummer; the grille, the bumpers, the side bars, the wheel arches, the mirrors, the roof rails, and even the fake air vents with indicator on the front fenders look Hummer-like.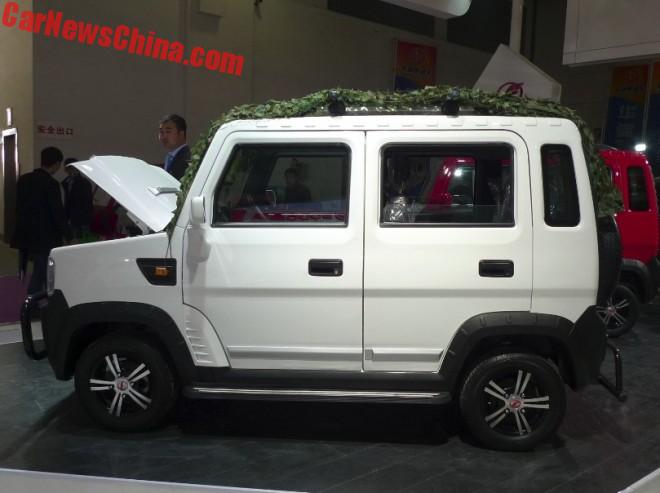 A white one with a camouflage net on top. Wheels are very sporty with a red Bodo logo in the nut.
The Bodo BD10 is made by a company called Bodo Vehicle Corporation (web), based in the great city of Tianjin in east China. The proudly say the have been in the business for 19 years. The started with electric bicycles and recently moved into LSEV's. The BD10 is their largest so far. Chinese name of Bodo is Baodao, which means Treasure Island, and that was for very long the Chinese name for Formosa, the former name of Taiwan.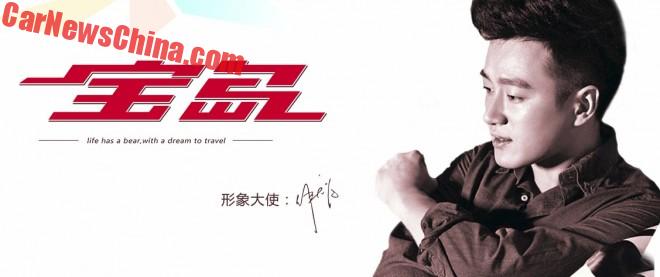 They have this pic on their site, showing a famous singer and his signature. The red characterd read Baodao. Underneath stands "Life had a bear, with a dream to travel".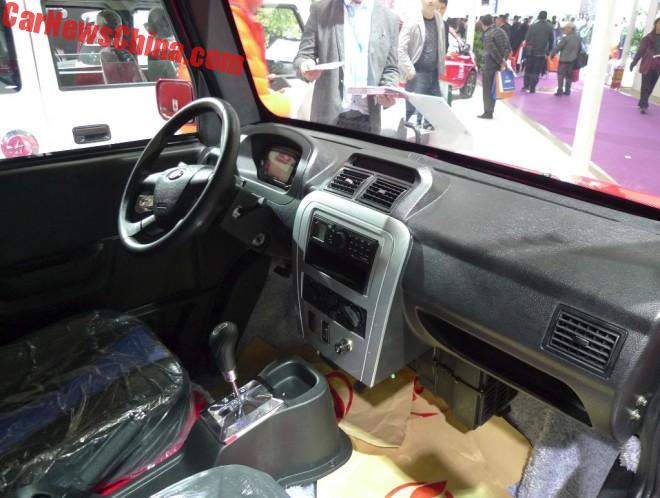 Will the BD10 make work of any bears on the road? Well, the bears will certainly get bored by the interior, and move on the a flashier car. Gray black black gray light-gray. Horrible. But still better of course than the original Hummer H2. It has an LCD instrument panel but no infotainment system.
Power comes from an electric motor with 5.6 horsepower, with that it hits a top speed of 45 km/h and reaches a range of 130 kilometers. Batteries are 72V lead-acid. The BD10 will hit the market soon for about 25.000 yuan or $3620. For comparison, a second hand Hummer H2 does at least $14.000.
Size: 2800/1475/1650, and wheelbase is 1500.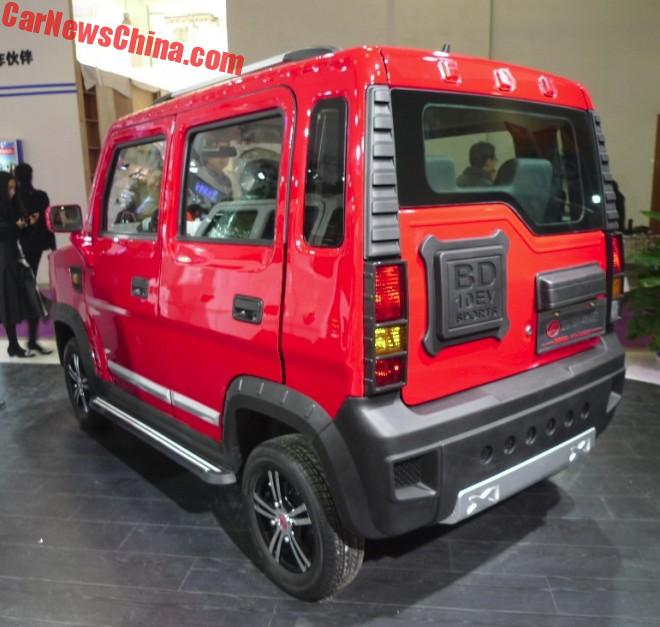 The black panels above the lights and lights above the window are typically Hummer, but the shape of the rear window is very Range Rover. Mix 'n make!