On October 13, Honda held a virtual conference on electrification strategy in China, where they launched the Honda e: N brand. They unveiled two production models and three concept models from Honda. The production models are e:NS1 and e:NP1 and will go on sale from spring of 2022. It will be sold by Dongfeng Honda and GAC Honda, respectively. The three concept models are e:N COUPE Concept, e:N SUV Concept, and e:N GT Concept. All will be launched within five years. Honda expects to launch e:NS1 & e:NP1 at this year's Wuhan Auto Show and Guangzhou Auto Show, respectively. In addition, they also released the pure electric e:N Architecture. The brand aims to launch ten pure electric models in the next five years in the Chinese market. They also plan to launch the models globally in the upcoming years.
Both the Dongfeng Honda e: NS1 and GAC Honda e: NP1 are special editions. Both new cars are pure electric SUVs based on the previously released e: Prototype. These two vehicles are very futuristic in appearance. Specifically, the long and narrow headlights are connected to the polygonal closed central grid. The logo in the middle of the front fascia can also be lit, highlighting the sense of technology of the electric car. It also adds substantial visual effects. The shape surrounded by the bottom is very sporty, and it also incorporates horizontal LED fog lights, which makes the overall look more technological. The lighting system also integrates "Heartbeat interactive light language" that allows users to see the charging status in a heartbeat.
The design of the sides of the vehicle is pretty straightforward. It includes a high waistline and large-sized multi-spoke wheels, creating an impressive silhouette. In terms of body size, the Dongfeng Honda e: NS1 and GAC Honda e: NP1 has a length, width, and height of 4,390 x 1,790 x 1,560mm and a wheelbase of 2,610mm.
At the rear, the Dongfeng Honda e: NS1 adopts the popular full-width taillight design with blacked-out design. The Honda logo is not used at the rear of the car. But the HONDA lettering is added, with the large-sized embedded trapezoidal license plate area below.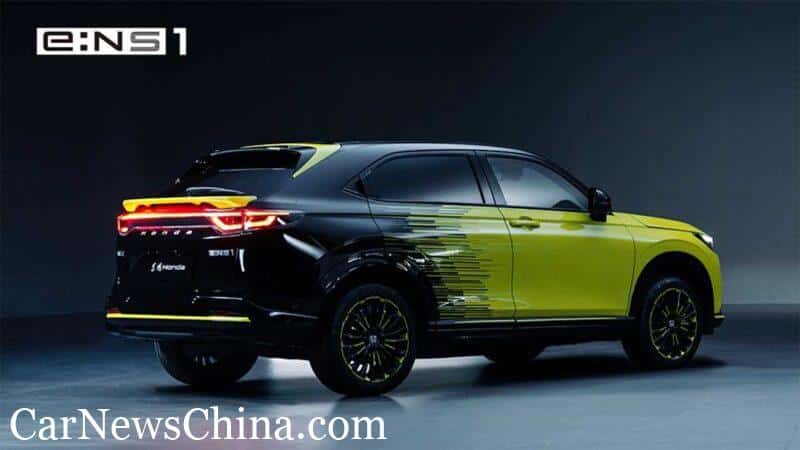 The digital cockpit comprises a 15.2-inch central control screen in the interior and a 10.25-inch LCD instrument screen. In terms of intelligence, both new cars will be equipped with Honda's latest full-stack intelligent control ecosystem, e:N OS. It integrates Honda SENSING 360 intelligent driving assistance system and Honda CONNECT intelligent guidance interconnection system. The same gets AI voice assistant, Car home interconnection, energy management, OTA online upgrade, and other functions. In addition, for the first time, it is equipped with the DMC driver state perception system. It can effectively recognize the driver's state, detect changes in emotions, and actively remind them to make the driving experience more innovative and safer.
In terms of power, both models are based on the e:N front-wheel-drive architecture. According to previous announcements, there will be two variants with a power output of 182Ps (134kW) and 201Ps (150kW) to choose from. The motor control program integrates more than 20,000 scene algorithms to better adapt to changing driving scenes and improve drivability. The Dongfeng Honda e: NS1 and GAC Honda e: NP1 uses a ternary lithium battery pack, and the range will exceed 500 km. In terms of sound effects, the two new cars will also use Honda's unique noise reduction technology and Honda EV Sound to accelerate sound waves.
e:N brand's future planning!
Intending to build "a pure electric vehicle with unique Honda characteristics in the new era," Honda China has released a new pure electric vehicle brand, "e:N." Where "e" stands for energize (power) and electric (electricity), "N " it's New (brand new), and Next (evolution). The "e:N" series of products will center on the Chinese team and create pure electric models that suit the needs of Chinese consumers. The pure electric architecture e:N Architecture, the full-stack intelligent control ecosystem e:NOS, and the One Touch Future design language e:N Design are the biggest highlights of the e:N series of products.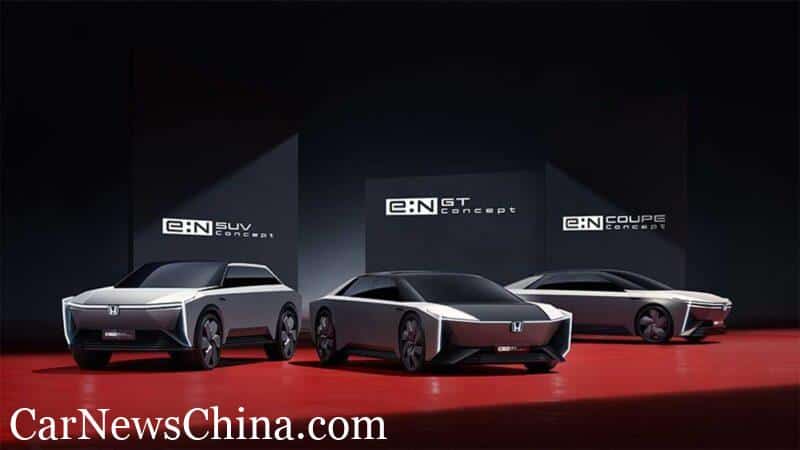 At the press conference, Honda launched the intelligent and efficient pure electric architecture e:N Architecture. It integrates drive motors, power batteries, a dedicated pure electric vehicle frame, and a chassis platform. The e:N series provides pure electric architectures with two different drive modes. These are e:N Architecture F and e:N Architecture W. The e:N Architecture F is based on the front-drive and will be used in small and medium-sized cars. The e:N Architecture W includes two versions, AWD and RWD. It will be equipped with applications on medium and large models to improve handling performance effectively.
In the full-stack intelligent control ecosystem, e:NOS, Honda SENSING 360 intelligent driving assistance system, and Honda CONNECT intelligent guidance interconnection system will be integrated. It gets standard human-level voice interaction and ultra-high-definition large-size vehicle display system, providing convenient digital mobility space. The new generation Honda CONNECT will realize remote monitoring of traffic conditions and potential risks in the driving environment. It will allow vehicles to recommend safe routes independently.
The new safe driving assistance system Honda SENSING 360 can cover blind areas around the vehicle. It will help to avoid traffic accidents and reduce the driver's burden. Based on the existing Honda SENSING monocular camera, Honda SENSING 360 has added 5-millimeter wave radars in the front and corners of the car to achieve 360-degree sensing. It can cover blind spots that are difficult to confirm when driving visually. Further, it will also help avoid collisions with other vehicles and pedestrians, thereby reducing the burden on drivers. The system will be the first to be installed in models released in China in 2022. The brand plans to install it in all models sold in developed markets by 2030.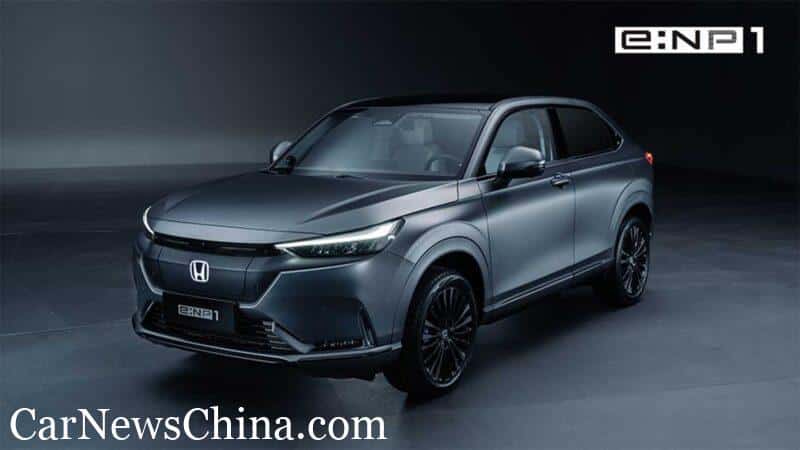 The three concept cars, e:N COUPE concept, e:N SUV concept, and e:N GT concept unveiled this time, embody the brand new e:N Design design language of the e:N series. The angular design and sharp body lines bring a strong visual impact to the new car for the design concept. In addition, the e:N series will also use luminous Honda logos, highlighting the technological sense of the e:N series. The production models built with these three concept cars will be launched in the next five years.
e:N COUPE concept
Honda will further accelerate the launch of electrified models in the Chinese market. In the next five years, ten pure electric vehicles will be launched. All new models launched in China after 2030 will be pure electric and hybrid models. Guangqi Honda and Dongfeng Honda will build new low-carbon and environmentally friendly pure electric vehicle factories for pure electric vehicle production. These are planned to start production in 2024. In addition to Honda's currently operating 1,200 stores in China, in the future, it will also start experience stores in key cities and carry out diversified offline experience activities. At the same time, Honda will also build a brand-new digital platform to achieve a zero-distance online experience.
As a staunch promoter of hybrid technology, Honda was much more conservative in promoting pure electric vehicles. However, the sales of pure electric or fuel cell vehicles will account for 40% in 2030. The production of internal combustion engines will be discontinued by 2040. With the establishment of strategic goals such as Zhonghe, Honda "slammed on the switch" in terms of electrification and unveiled two pure electric mass-produced cars and three pure electric concept cars in one go. Next year, we also expect to usher in a complete listing of Honda's pure electric models.