On December 30, GAC Aion unveiled the Hyper GT at the 2022 Guangzhou Auto Show and pre-orders were opened. Based on Aion's AEP 3.0 platform, the GAC Aion Hyper GT is an all-electric midsized coupe.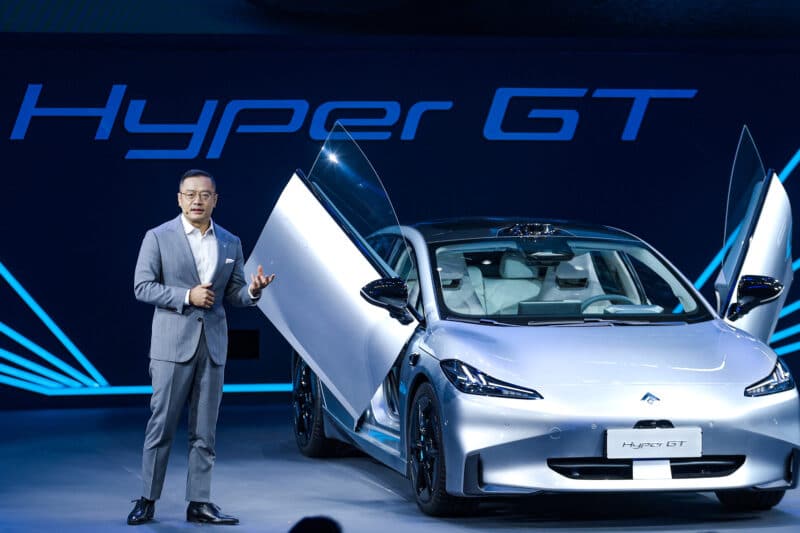 The automaker claims that the new car has the lowest resistance coefficient of any production car worldwide at just 0.19 Cd. Before now, the Mercedes-Benz EQS sedan held this record with a 0.20 Cd drag coefficient.
A significant part of the car's design is focused on aerodynamics, and this is evident in the exterior design and unique proportions. According to GAC Aion, it is the world's first car with a fully enclosed front fascia that features Wind Blade Grille that opens automatically when it reaches a high speed and helps reduce drag and wind resistance.
When it reaches 80km/h, the Wind Spoiler rises to lead airflow effectively and generate downforce as air passes around it, improving handling and steering when cornering.
The vehicle is equipped with Fengyun III satellite infrared remote sensing technology, which allows it to identify life forms in bad weather, such as haze and sand. The car is available in two different styles, and potential owners can choose either the model with three LiDARs or the one with just one LiDAR on the roof.
According to GAC Aion, the body design of Hyper GT is shaped and inspired by liquid metal. The car sports hidden door handles, butterfly doors, and 19″ six-spoke turbo wheels.
The Hyper GT is equipped with unique electrode headlights compared to traditional penetrating headlights.
GAC Aion announced that the single-motor version of the Hyper GT has a maximum power of 250 kW and peak torque of 434 Nm, and acceleration from 0 – 100 km/h takes only 4.9 seconds.
GAC Aion plans to launch at least two new models each year.
Sources: GAC Aion