China imported 338,000 passenger vehicles in the first six months of the year, a 23.3% decrease compared to 2022. In the same period, 365,000 imported cars were sold or 0.6% less than the first six months of the last year.
Sales of the imported cars are slowing down as 2022 low base effect weakens and consumption boost campaigns organized by the local governments release the demand for electric vehicles and plug-in hybrids, the country's leading car importer, Sinomach, analyzed.
SUVs made half of imported vehicles, while sedans recorded over 40% share with MPVs getting a little over 3% share. MPVs recorded the highest drop at over 20 percent.

Luxury brands made 91% of the imports in the first half of the year. At the same time, non-luxury cars made 9.3%. Non-luxury brands had the highest growth in the past six months at over eight percent.

Mercedes led the manufacturers, with Lexus and BMW following at second and third spot. Among top 10 importers, five of them are based in Germany. BMW and MINI recorded drops year-over-year as they started domestic production of certain models.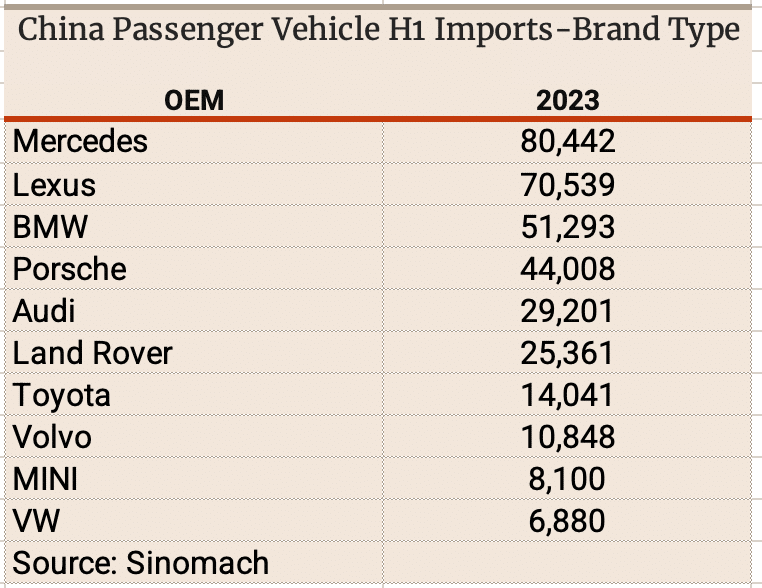 Editor's Note:
The automotive imports to China have been slowing down since 2017, when the country recorded 1.28 million imported vehicles. In 2022, the imports were around 880,000 units. The imports have been decreasing on average at 10% annual rate based on CPCA data. This year's slow down is primarily due to MINI and BMW localizing their production, and Lexus having a bad sales year. Japanese automaker saw its sales being cut in half this year as it is trying to find electric products that will be recognized by the local market. Lexus saw a 20% drop in sales this year.
Source: Dongchedi