In September 2023, the Chinese automobile market continued its robust performance, registering the sale of 2.081 million new cars, as the China Passenger Car Association (CPCA) reported. This figure represents a 4.9% increase compared to the previous month and 5.0% YoY. Notably, the market witnessed significant activity in the new energy vehicle (NEV) sector, with 500,000 electric vehicles (EVs) and 246,000 plug-in hybrid electric vehicles (PHEVs) finding buyers. NEVs accounted for 37.0% of total vehicle sales.
BYD Secures the Top Spot
Regarding market dominance, BYD emerged as the top-performing auto brand in China for the month, achieving remarkable sales figures. BYD sold 243,918 vehicles, securing an impressive 11.72% market share.
Volkswagen maintained its second-place position as the second best-selling brand in China, with total sales reaching 205,161 cars. This achievement translated to a 9.86% market share. Toyota secured the third spot, selling 160,845 vehicles, equivalent to a 7.73% market share.
Honda closely followed in fourth place, with 109,425 vehicles sold, capturing a 5.26% market share. Geely rounded off the top five, recording sales of 88,547 cars, which accounted for a 4.26% market share.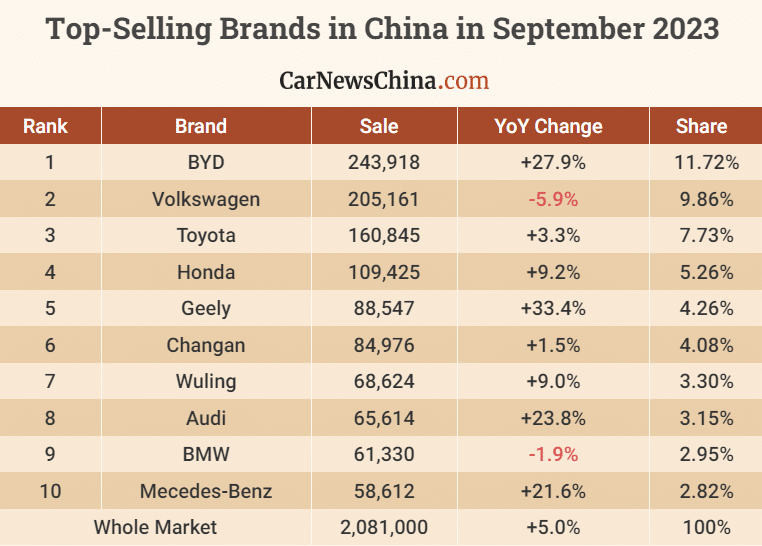 Tesla Adopts New Delivery Strategy
Tesla changed its delivery strategy in the Chinese market this quarter. Unlike the previous year, when Tesla typically conducted large-scale deliveries at the end of each quarter, the company now carries out these deliveries in August. This strategic shift led to a remarkable 122% year-on-year increase in Tesla's sales in China for August. However, this strategy also caused Tesla's sales in China to fall by 44% YoY in September.
BYD Both Dominates EV and PHEV Market
BYD showcased a commanding presence within the Chinese NEV segment, excelling in both the EV and PHEV categories. BYD captured a substantial 26% market share in the Chinese EV market. Impressively, the brand secured an even more significant 54% market share in the PHEV category for the month.
Top-Selling Pure Electric Vehicle Brands
In the pure electric vehicle market, BYD maintained its dominance, selling 131,304 vehicles and securing a notable 26.26% market share. Aion claimed the second position with 50,363 cars sold, constituting a market share of 10.07%. Tesla secured the third spot with 43,507 vehicles sold, capturing a market share of 8.70%. Wuling and Volkswagen completed the top five list as the best-selling pure electric brands.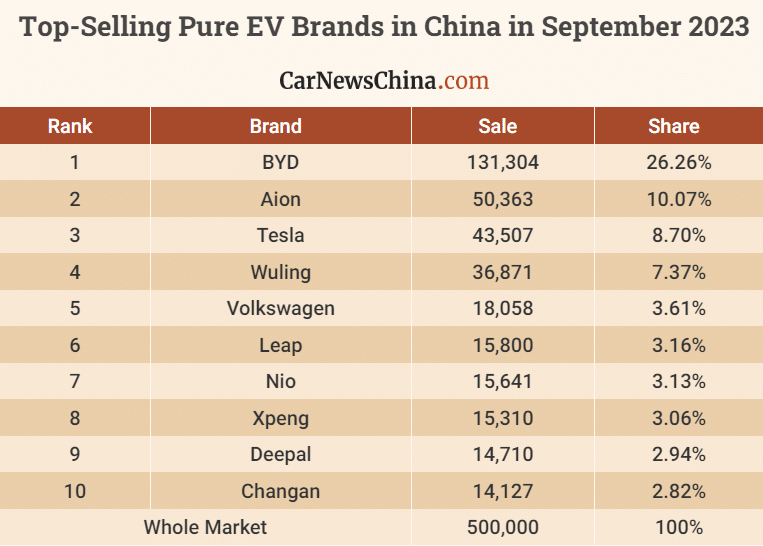 Top-Selling Models
In terms of individual models, the top three vehicles in the Chinese market for this month were:
Tesla Model Y: With an impressive sales figure of 41,428 cars.
BYD Qin Plus: This model came in second, with 39,904 units sold.
BYD Song Plus: The BYD Song Plus claimed the third position, with 36,773 vehicles sold.