Seen at a police equipment exhibition in Beijing, a mighty 6×6 all terrain vehicle from Chinese manufacturer Xiaolong Auto from Wuhan in Hubei Province. It is in prototype stage, hence the simple name: 'armored vehicle'. Armored it is, Xialong hopes to sell it to the Chinese army, the PLA. China preaches a lot about peace these days, Xialong so couldn't arrive with camouflage and went for UN-white instead.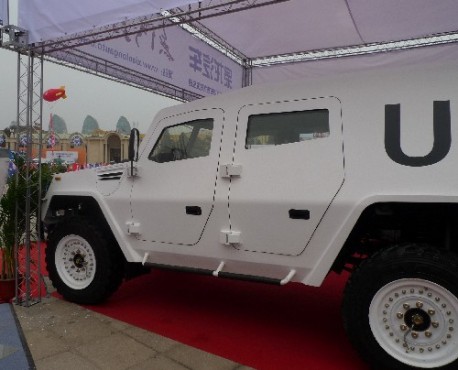 The usual suppliers for this sort of vehicles to the army are Dongfeng, Beijing Auto and FAW. Those are all state owned, Xiaolong is privately owned and that doesn't make an easy sell. The Armoured Vehicle seats 12 soldiers in absolute safety. The monster is 6.5 meter long, 2,2 meter wide and almost two meters high. Weight is 8500kg and that is without any guns.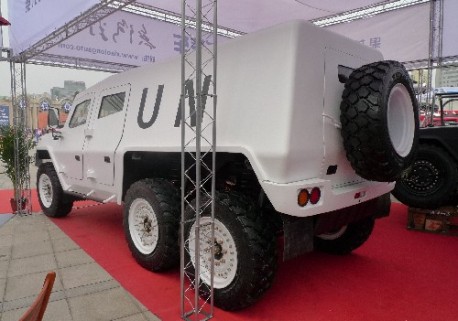 Engine is a 3.2 liter six-in-line with 160kw, Xialong doesn't state the torque number. Top speed on the road is 125km/h. Fueltank can hold 130 liter, an optional 'external tank' holds another 50. Range with the standard tank is 750km. The Armored Vehicle can go trough water two meters deep and climb almost every mountain.
Wether the PLA is interested is yet unknown, let's hope the generals are, this mighty machine will scare the heck out of the Taiwanese, even in white.