Here we have the very first pictures of the new Lamborghini Urus SUV that will officially debut at the Beijing Auto Show tomorrow. The pics were published by AutoExpress and were taken on what seems to be a very private viewing, for which we sadly were not invited. Details however are still very scarce, here's what we know: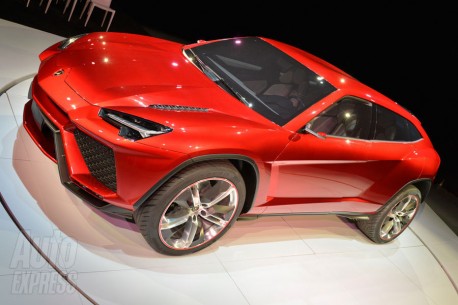 From AutoExpress:
It's Lamborghini's second-ever off-roader – after the 1986 LM002 – and will come with 600bhp, four-wheel drive and a £150,000 [240.000 USD] price tag. Bosses are confident it will triple annual sales to 3,000.
The car is expected to ride on Audi's MLB architecture and Auto Express was granted exclusive access to it ahead of its debut at this week's Beijing Motor Show in China.
In terms of styling, the Urus echoes the canned Estoque saloon concept with an angular design. Bosses say it will be the world's fastest-accelerating and best-handling SUV, although they have yet to confirm what engine will sit under the bonnet.
It could potentially use a modified version of the VW Group's new 4.0-litre twin-turbo V8 or the 6.0-litre W12 which features in some of Bentley's models.
Whatever engine powers the production version, Lamborghini is targeting a 0-60mph time of around four seconds. And although the company says the top speed for an SUV is "not really relevant", it's likely to reach well over 180mph.
Like the Aventador, the Urus uses carbon fibre for its chassis and body and the company claims it's 100kg lighter than even an aluminium model would be. "With this style of machine, lower weight is the new power," said R&D boss Maurizio Reggiani.
"We can keep putting more power in, but we also aim to have the lowest CO2 emissions in the class, and lower weight can also be felt every day in the way the car handles, brakes and accelerates."
Nods to practicality include a height-adjustable front spoiler to aid approach angles, although with its sporting dynamics, the car won't offer Land Rover-style off-road ability.
The Urus – named after the ancestor of all domestic cattle – could be in showrooms by 2016 if feedback is positive.
[/AutoExpress]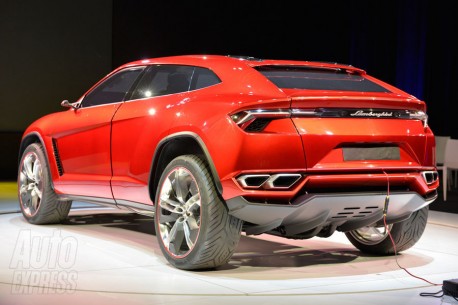 Earlier on we heard the Urus was based on the Porsche Cayenne and powered by a Lamborghini V10 from the Gallardo with 584hp. AutoExpress however writes that the Urus could "potentially use" a V8 or V12 but also says they have yet to get confirmed what engine sits under the bonnet. That means we still have some surprise left for tomorrow!