Here we have a very special Hongqi CA7220, based on the Audi 100/200 that were made by the FAW-Volkswagen joint venture. Hongqi, Red Flag, is a brand from FAW. The CA7220 debuted in 1998 and continued until 2004. This is the facelifted model which was made from 2001 until 2003.
The CA7200 is one of the most interesting Audi-based Hongqi's because it was powered by a Nissan VG20E 2.0 liter V6. Previous Audi-Hongqi's  were powered by Audi or Chrysler engines. The Audi engines were expensive and the Chrysler engines had finally become to old in the late 1990's, FAW acquired the Chrysler 2.2 KL4 engine back in 1987… FAW therefore made a deal with Nissan, the VG20E engine was available until 2005 when Hongqi ended production of the Audi-based models.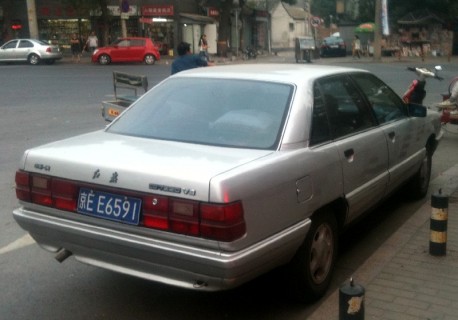 I met this perfect silver example in one of Beijing's famous Hutong-alleys, not far from where I met a fine Infiniti Q45 just minutes earlier. Silver is a rare color for the CA7220, most came in black or dark red.