The Springo EV has been launched on the Guangzhou Auto Show. Price is 258.000 yuan. The full name of the vehicle is Shanghai-GM Sail Springo EV. 'Springo' has no Chinese translation.
Sales of the Springo EV will start with a pilot project in Shanghai where buyers can get 100.000 yuan subsidy plus a free license plate. The latter is very attractive since prices for license plates in Shanghai can go up to 10.000 USD. The Springo EV is made in China by the Shanghai-GM joint venture.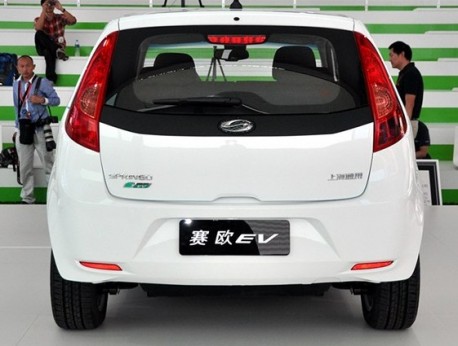 Since development of the Springo EV began we heard many different specs, this are finally the final numbers: The electric motor has 116 hp (88kw), torque is 220nm, peak torque is 510nm. 0-100 takes 10.4 seconds, top speed is 130km/h. Range is 130 kilometer. Charging takes 7 hours on household 220V. The Springo EV has a sport-mode (!), accessed by a sport-button (!), that makes acceleration 20% faster. However, Shanghai-GM didn't say whether this is for 0-100 or any other acceleration, like 80-120. Range will go down if a driver uses the sport-button too much.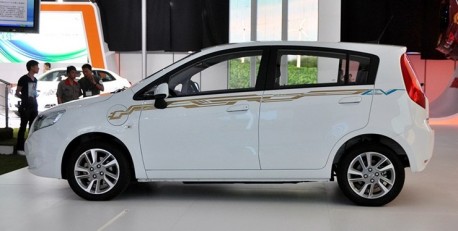 The Springo-Sail EV is developed by the PATAC Shanghai Pan Asia Automotive Technical Center, a design center that is part of the Shanghai-GM joint venture that also makes the petrol-powered Chevrolet Sail.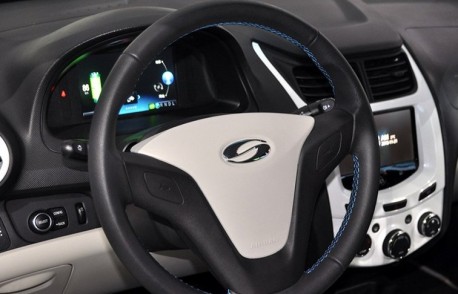 Dash very tech. Screen instead of dials, showing all the EV-stuff, seems very distracting. Even more distracting is the huge screen on the center console which houses the infotainment system. Yez, green driving is good for penguins but it might kill more men, while touching their screens in a Shanghai-GM Sail Springo EV!